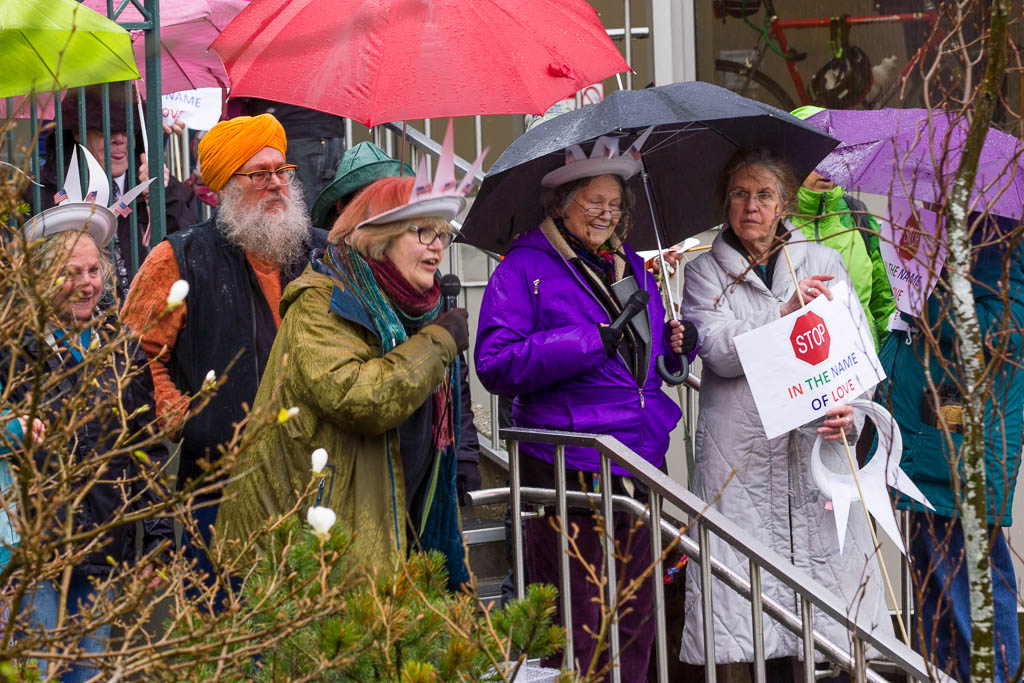 As the U.S. Supreme Court heard oral arguments on marriage equality, around 40 people gathered at the Dimond Courthouse plaza across from the State Capitol in Juneau to rally through song and dance.
The group wants Gov. Bill Walker and Attorney General Craig Richards to end Alaska's same-sex marriage appeal in one federal case and withdraw its support of gay marriage bans in the Supreme Court case.
With a single speaker wrapped in plastic, two microphones and backup dancers, around 30 people stood in the rain singing, "Stop in the name of love/ Before you break my heart/ Gov'nor Walker, I'm aware of what you do/ After we voted for you/ You signed on the amicus brief/ Against marriage equality/ There's time before you spend money/ Causing us pain and hurt/ Think it over/ We gave our trust to you…"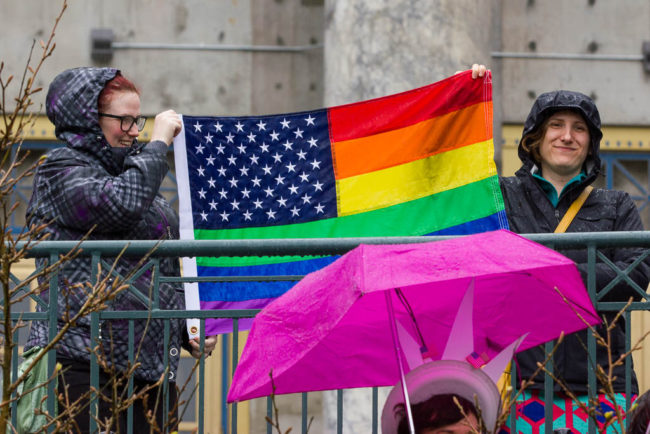 At the end of the 5-minute performance, one of the organizers, Maureen Longworth, asked everyone participating and watching to "call Gov. Walker and ask him to stop in the name of love. And have all your family and friends do the same."
Longworth is referring to the state's appeal to the federal court decision that legalized same-sex marriage in Alaska. Gov. Sean Parnell's administration initiated the appeal, and it's been carried forward by Gov. Walker's administration.
Longworth and others singing also want the state to withdraw from the amicus brief to the U.S. Supreme Court defending gay marriage bans.
Kimberly Crawford, who voted for Walker, has been doing exactly what Longworth is asking people to do.
"I've called him several times, emailed him. I mean, it's unacceptable in my opinion," says Crawford, who hasn't received a reply from the governor.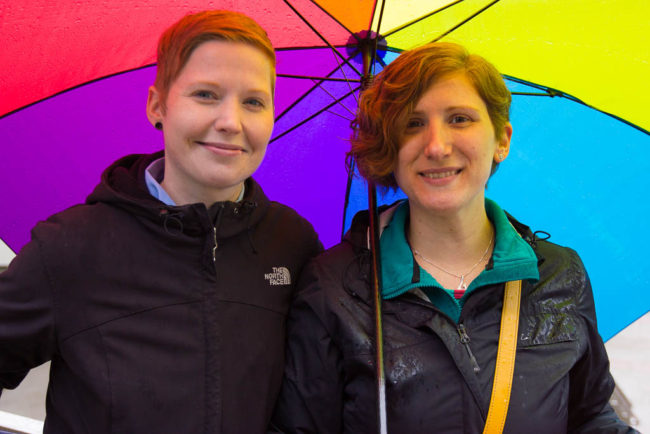 Kimberly married Marguerite Crawford in 2013 in Connecticut, and their marriage was recognized in Alaska last October when same-sex marriage became legal.
"We had our first marriage, what we consider our real marriage, Aug. 4, 2012, in the courtyard here. Since we couldn't get married inside the court, we were married outside," Marguerite Crawford says.
She hopes the singing and dancing will send a message to the governor and attorney general.
"It's a good lighthearted way to say they are breaking our hearts by denying us the equality that other community members receive," Crawford says.
Through a spokesperson, the governor says he respects the separation of power from the attorney general; the issue of withdrawing the state's same-sex marriage appeal or from the amicus brief is up to the attorney general.
Assistant Attorney General Cori Mills says the Department of Law doesn't plan on withdrawing from either. In January, the Walker administration asked to hold the appeal. Mills says it's prudent to wait for the Supreme Court decision.
"We haven't done any work on the case. We have been waiting until the U.S. Supreme makes its decision and the Ninth Circuit granted that stay to wait and see what happens," she says.
Since the stay was issued, Mills says no money has been spent on litigation. She also says signing onto an amicus brief is a routine department function and didn't result in additional costs.
As of Tuesday morning, the Department of Health and Social Services reports there have been 134 same-sex marriages in Alaska since it became legal on Oct. 14.