Lawmakers have allocated another $70 million for two controversial transportation projects frozen by the governor.
About a third is for the Juneau Access Project, which includes a 47-mile road to a new ferry terminal north of Juneau. The rest is for the Knik Arm Crossing, a 1.7-mile bridge connecting Anchorage and the Matanuska-Susitna Borough.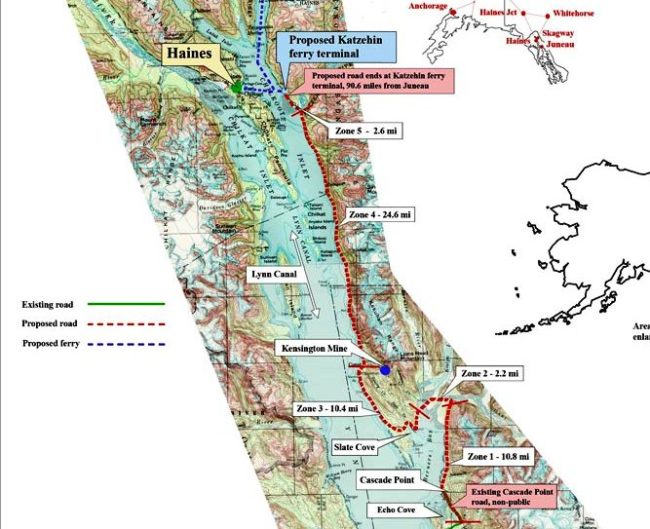 Both were added to the capital budget by House and Senate negotiators.
Jeremy Woodrow is spokesman for the state Department of Transportation.
"What this is, is just legislative authority. And what legislative authority means is it gives the Department of Transportation permission to use that amount of federal dollars if the department needs to, when the department needs to use that money for the project," he says.
Gov. Bill Walker froze work on the road, the bridge and four other large projects soon after taking office. He said they appeared to be too expensive for the state to pursue as oil revenues fall.
"It's important to point out for both projects that they still fall under the governor's administrative order. That said, both these projects can't spend any new money until the administration's given them a full review and given direction otherwise. So that money wouldn't be able to be spent anyways, until there's been further direction made by the administration," he says.
The Transportation Department continues working on environmental documents needed for the Juneau project to proceed. But Woodrow says the pace has slowed.
The department estimates the Juneau Access Project will cost close to $600 million. The Knik Arm Crossing is projected to run about $900 million. Critics say both figures are low.
"Instead of making the same costly mistake again of building expensive infrastructure that we can't afford to operate, Gov. Walker should (put) a permanent stop to the Juneau road extension," says the Southeast Alaska Conservation Council's Emily Ferry, in a press release.
The department has said the project would ultimately save money by shortening ferry routes.