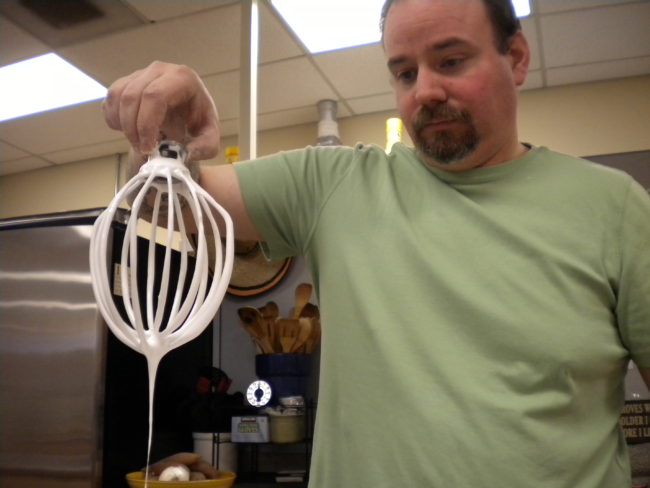 A Juneau marshmallow maker is seeking community support to turn his hobby into a small business before the tourist season begins.
Jason Puckett says he's never had much of a sweet tooth, but admits to always having an appreciation for marshmallows.
"It wasn't overly sweet. It's just the consistency and the flavor and the feel in your mouth and it's just something that is unique," he says.
The former Marine and father of three grew tired of store-bought marshmallows with the added chemicals and preservatives. He decided one day to try making them from scratch. Ten years later, he's nailed down a simple recipe that's in high demand among friends and co-workers. Several of them encouraged Puckett to try expanding his hobby into a business.
Recently, he set-up shop in the rented kitchen space of Chez Alaska Cooking School and began producing about 20 pounds of chocolate-covered marshmallows each week.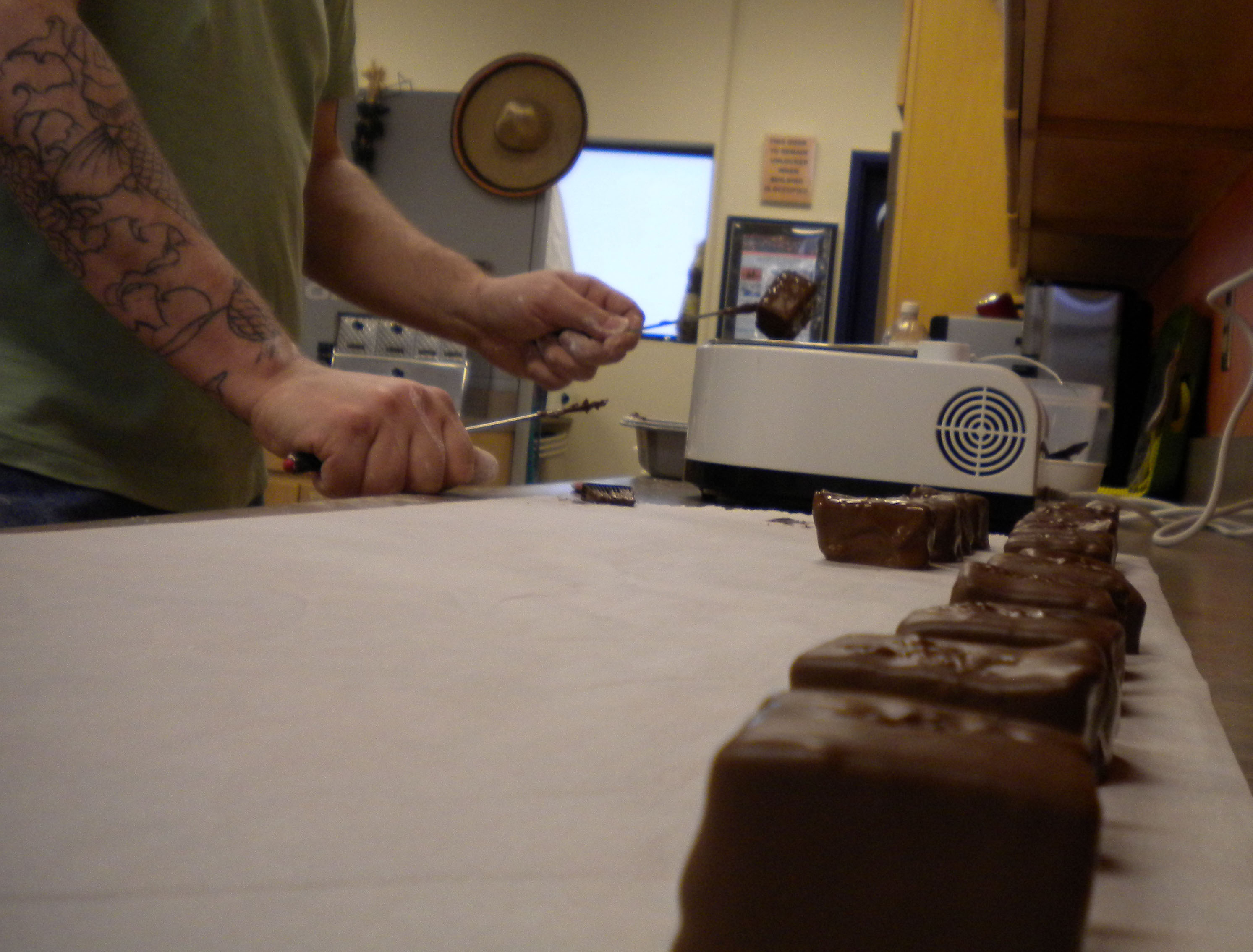 Puckett's operation is a one-man show requiring much attention to detail. He hand cuts each marshmallow with a trowel — purchased at a hardware store — then delicately plops them into a swirling pool of melted chocolate. After extracting them, he slabs on a final layer of chocolate with a mini-BBQ basting brush.
It takes Puckett up to four hours to make a batch of marshmallows, which can conflict with the kitchen school's busy schedule. He recently launched a Kickstarter campaign to raise $2,500 for the first deposit on his own small kitchen space. Puckett's already collected about $1,000 and says he's been impressed by the flurry of community support.
"Everybody wants to help you in Juneau if you're a new business starting out," Puckett says. "So I've had a lot of people try to mentor me and help me along with my business."
Alaskan Fudge Co. manager Phil Wheeler has been giving Puckett pointers on how to launch his business. Wheeler sells Puckett's marshmallows in his store and describes them as a standout addition to his candy palette.
"It wasn't exactly what I expected it to be. It's a lot fluffier and softer than what I thought it would be," Wheeler says. "I didn't think something like that would dip in chocolate like the way it does."
Wheeler says he's seen many candy businesses come and go over the years. He says developing a regular clientele is key for surviving in the capital city.
"I don't know if there's room for more than a few candy stores here in town or anywhere in Southeast Alaska," Wheeler says.
Puckett says he's confident his marshmallows will attract business year round. He plans to broaden his products to include chocolates bars, peanut butter cups and pumpkin spice-flavored marshmallows.
"It's really important to diversify and have a lot of different areas where you can do your business so you're not just pigeonholed in one area," Puckett says.
Puckett hopes to work in his own kitchen before the tourism season kicks-off next month. He'll be accepting donations until March 26.