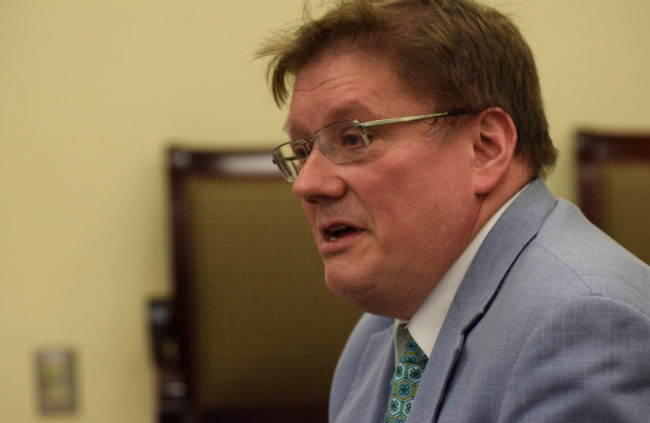 Alaska's film and television producers fear an attempt to repeal the 7-year-old tax credit system will stifle their growing industry.
Animal Planet, CNN and the Travel Channel are some credits University of Alaska Fairbanks film students have added to their resume thanks to the state's film tax incentives.
Maya Salganek is the director of the university's film program. She says 90 percent of her students have gotten professional work on productions since the tax incentive program began in 2008.
"It's about getting the experience, and the confidence and the skillset in order to move forward," Salganek says. "And that's really where the incentives hopefully will go."
Working as production assistants, editors and script supervisors, Salganek says her students earn valuable experience that teaches them how to produce their own stories locally.
"The tax incentive brings people up who have skills, and it lets us see this is a viable industry," says Kavelina Torres, a student in Salganek's film program.
Torres had about eight different production jobs in the last couple years — including for the 2012 feature film "Big Miracle."
Torres says she hopes to produce feature films about Alaska Natives. Without the tax incentives, she says it'd be difficult to recruit the outside talent that could help her produce quality films.
"When those people don't come, then we're kind of fumbling in the dark. A lot of times I feel that way," Torres says.
When the tax credit program was transferred to the Department of Revenue in 2013, regulations changed to incentivize Hollywood producers to hire more Alaska residents.
Ninety-one residents were employed by productions awarded tax credits in 2014.
Kelly Mazzei, the Alaska Film Office executive director, says hiring local labor is one of the standards her office considers when reviewing applications.
"We're looking at the content, the number of residents that were hired, how is the film industry being supported? Is there an economic benefit to the state? Is it in the state's best fiscal interest to approve this tax credit?"
Mazzei says measuring economic benefit in terms of revenue is difficult because Hollywood producers don't have a tax liability in Alaska.
"Even though the economic benefit to the state is clear as far as bringing money in to businesses and local vendors, and hotels and catering," Mazzei says, "as far as revenue coming into the state, there wouldn't be any because we don't have a broad-based tax system."
Without a broad-based tax such as an income or sales tax, producers don't contribute to state revenue.
It's this lack of contribution that deputy revenue Commissioner Jerry Burnett says is what makes the tax incentives inconsistent with the state's fiscal structure.
"From the state's perspective as an operating entity, this is a subsidy; it's a reduction in our revenues," Burnett says.
Burnett testified before the Senate Labor and Commerce Committee on Thursday on Sen. Bill Stoltze's bill that aims to repeal film tax credits. Senate Bill 39 prevents the Alaska Film Office from accepting new production applications after July 1, 2015.
Thomas Denomme is the chief executive officer of the Anchorage production company Sleeping Lady Films. He says threats from the legislature deter producers from wanting to work in Alaska.
"I still believe Alaska could be huge for film industry," Denomme says, "It's just setting it up properly and promoting it properly."
Denomme is in the works of producing a screen adaptation of the 1993 novel "Two Old Women: an Alaskan Legend of Betrayal, Courage and Survival." Without the tax incentive, he says he'll probably have to shoot the film outside Alaska.
The committee is scheduled to take public testimony on SB 39 on Tuesday.