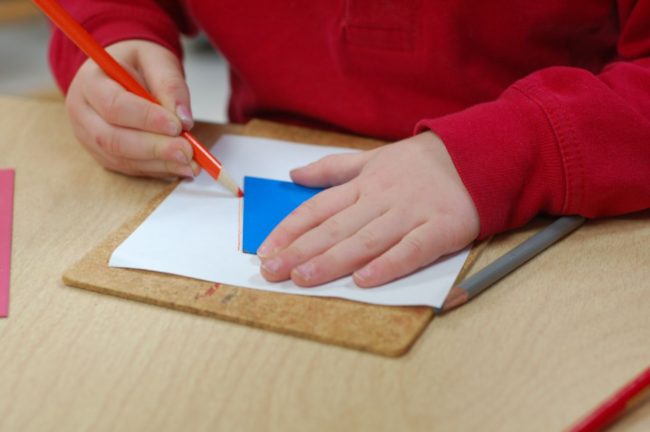 Montessori Borealis is preparing to be its own school starting this fall. That entails creating a new preschool and kindergarten classroom, and an additional lower elementary classroom.
Montessori Borealis will welcome 15 preschoolers and nine kindergartners next school year. This comes as part of its expansion approved by the Juneau School Board in December, allowing the program to become its own school within the district. Borealis will now serve students from preschool to eighth grade.
Because Borealis is open to any student in the district, enrollment is based on a placement process. The district will accept applications for all grade levels from March 1 to April 17. The expansion also includes a third lower elementary classroom for 25 first through third grade students.
"We really encourage everyone who's interested to come and do an observation in the Montessori Borealis classrooms and see what it is and make sure you really want to enter into the placement process and really want to apply," says Kristin Garot, principal of Montessori Borealis.
Preschool and kindergarten students will be in a classroom called the Children's House located in the Marie Drake building with the rest of the Borealis classrooms. Preschool tuition for school and childcare from 7:30 a.m. to 5:30 p.m. is $990 a month. Kindergarten from 8:30 a.m. to 3:00 p.m. is free.
Garot hopes the Children's House will attract a spectrum of Juneau families.
"We want to make sure that we're getting the whole range of families with socioeconomic backgrounds that are diverse. There will be some scholarships available for low-income families who qualify to cover the tuition for preschool," Garot says.
Borealis will also accept childcare assistance for preschool payments.
Garot says students in the Children's House will not automatically advance to a lower elementary classroom at Borealis. Students will have to re-enter the placement process to get into first grade.
Students in the tuition-based preschool will automatically advance into the free kindergarten. Garot says there will still likely be a few openings for kindergarten, but the goal is to not have students enter at the end of a three-year classroom cycle.
"We don't want brand new students to the class at kindergarten necessarily. We want them at age 3 or age 4, so then by the time they get to kindergarten, they're the class leaders and they know the system and they understand how the classroom works," Garot says.
Due to Montessori Borealis' new designation as a school, the Juneau School District could receive an additional $700,000 in state and city funding. Most of this will be used for additional Borealis staff, including two more teachers, more specialists, three part-time para-educators and an administrative assistant.
Montessori Borealis is holding informational sessions at the Marie Drake building tonight at 6 p.m. and Saturday morning at 10 a.m. Meetings on preschool and kindergarten will take place next Thursday at 6 p.m. and Saturday at 10 a.m.