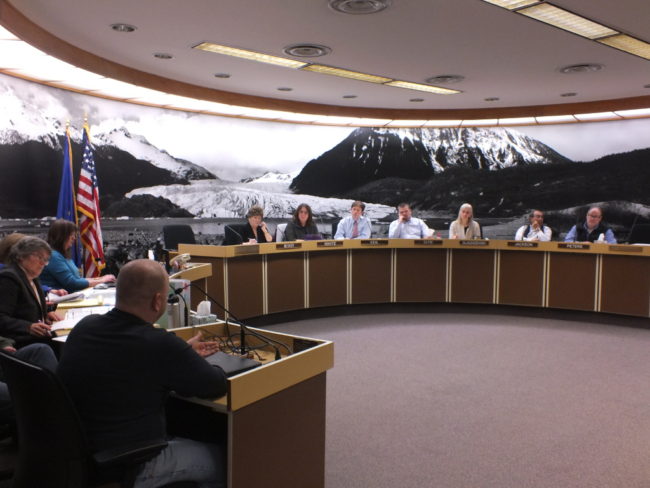 About 30 people attended the first meeting of a committee formed by the Juneau Assembly to grapple with Alaska's soon-to-be legal marijuana industry.
Last night's short agenda mostly called for setting goals and deciding when the committee should meet moving forward.
Assemblyman Jesse Kiehl was elected chair. He asked committee members to start thinking about what issues the group will need to tackle in the coming months.
"My first request is that committee members start flagging things for all of us to consider as a group," Kiehl said. "As you see them, as they occur to you, let's start a brainstorm list."
The committee is expected to deal with land use issues, regulating where and when legal marijuana businesses can operate in Juneau. In January, the Assembly set an Oct. 19 deadline for city officials to figure out local planning and zoning rules.
Members are expected to stay abreast of developments on the state level, where legislators are working on broader regulations governing legalized pot. The group also may look into conflicts between state and federal law, which still considers marijuana illegal. Some members said they would look to communities in Washington and Colorado, states that already have legal marijuana businesses.
Even though it wasn't on the agenda, the committee took public comments, mostly from pot supporters, who thanked members for taking on the issue. Mendenhall Valley resident Sean Purvis told the committee he's planning to tour legal pot operations in Washington state.
"I expect to glean a lot of information from these folks down in Washington," Purvis said. "They plan on opening their books to me. If there's anything I can share with you guys when I get back, I'm more than happy to do it."
The committee includes four Assembly members and three Planning Commission members. Besides Kiehl, the Assembly members are Mary Becker, Maria Gladziszewski and Debbie White. The Planning Commissioners are Mike Satre, Gordon Jackson and Bill Peters. Meetings are planned for the second and fourth Thursdays of every month.
Alaska voters in November legalized the use and sale of marijuana for people 21 and older. The initiative takes effect later this month.