Since 2006, the Poetry Omnibus contest has decorated city bus interiors with locally composed poetry. Tonight, the 2015 poems and their authors will be presented at the Juneau Arts and Culture Center.
To see the poetry in action I rode the valley outbound from the downtown transit center and sat next to Brian Graceland. He volunteered to read Nancy Rosel Brown's "From Brute to Kind" aloud.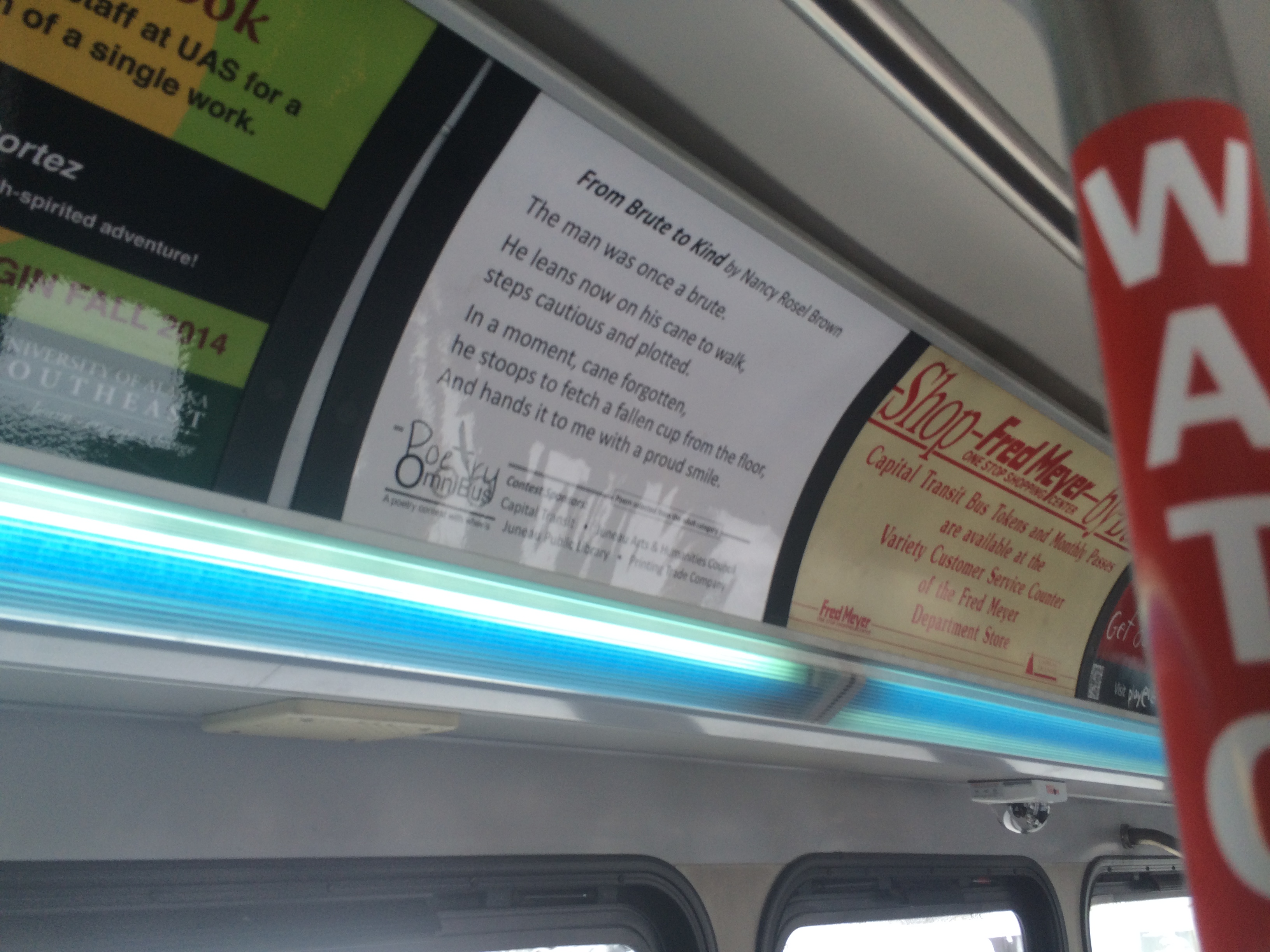 "The man was once a brute.
He leans now on his cane to walk,
steps cautious and plotted.
In a moment, cane forgotten,
he stoops to fetch a fallen cup from the floor,
And hands it to me with a proud smile."
Graceland is new to town and wasn't aware of the poems until I pointed them out. But a seat away, Aubrum Cohen says he's been reading them for years. He offers his impromptu interpretation of the poem.
"From what I'm gathering he started off as a brute, maybe with an attitude, and went from there with a kind heart, picked up a cup, and showed that there is kindness in everybody–that there's not just brutality in each individual regardless of how they are. It's just an inspiring poem," Cohen says.
Cohen's arms are spotted with tattoos and he wears a tattered winter cap that that barely reveals his eyes. He likes Poetry Omnibus.
"Not only does it help the people on the bus being able to read it, and maybe get some inspiration out of it, but it also helps the writers to maybe get some acknowledgement. It gives people hope," Cohen says.
Anne Fuller will be one of those people giving hope. She is a poet and a bus rider. She wrote "Mushy," which was selected to ride the buses in 2015. Fuller says she was inspired to write the piece specifically for this contest.
"Often when I start to write a poem I'm thinking about what's inside my own heart and my own head," Fuller says. "But knowing it's going to be on the bus, changes a little bit the reason for the poem."
Fuller appreciates the contest's accessibility.
"Not everybody is going to sell a volume of poetry and not everyone gets anthologized," Fuller says.
But, since Poetry Omnibus started in 2006, hundreds of poets have had their work shown publicly to thousands of people.
"We get so many comments from the tourists and the people that ride the bus," says Carol Race who has been involved since its inception. "I love having poetry in public places, I think it's just grand."
Race worked with the first organizer Kristen Hutchinson who was inspired by similar programs in London and New York. The word omnibus is at least a triple pun, including its definition as a collection of literary works, an old term for a horse-drawn enclosed bus, and its similarity to "on the bus."
To hear the poems recited by their composers, or get information on how to submit to next year's contest, go to the JACC at 6:30 tonight. Otherwise, they'll be on the bus throughout the year.