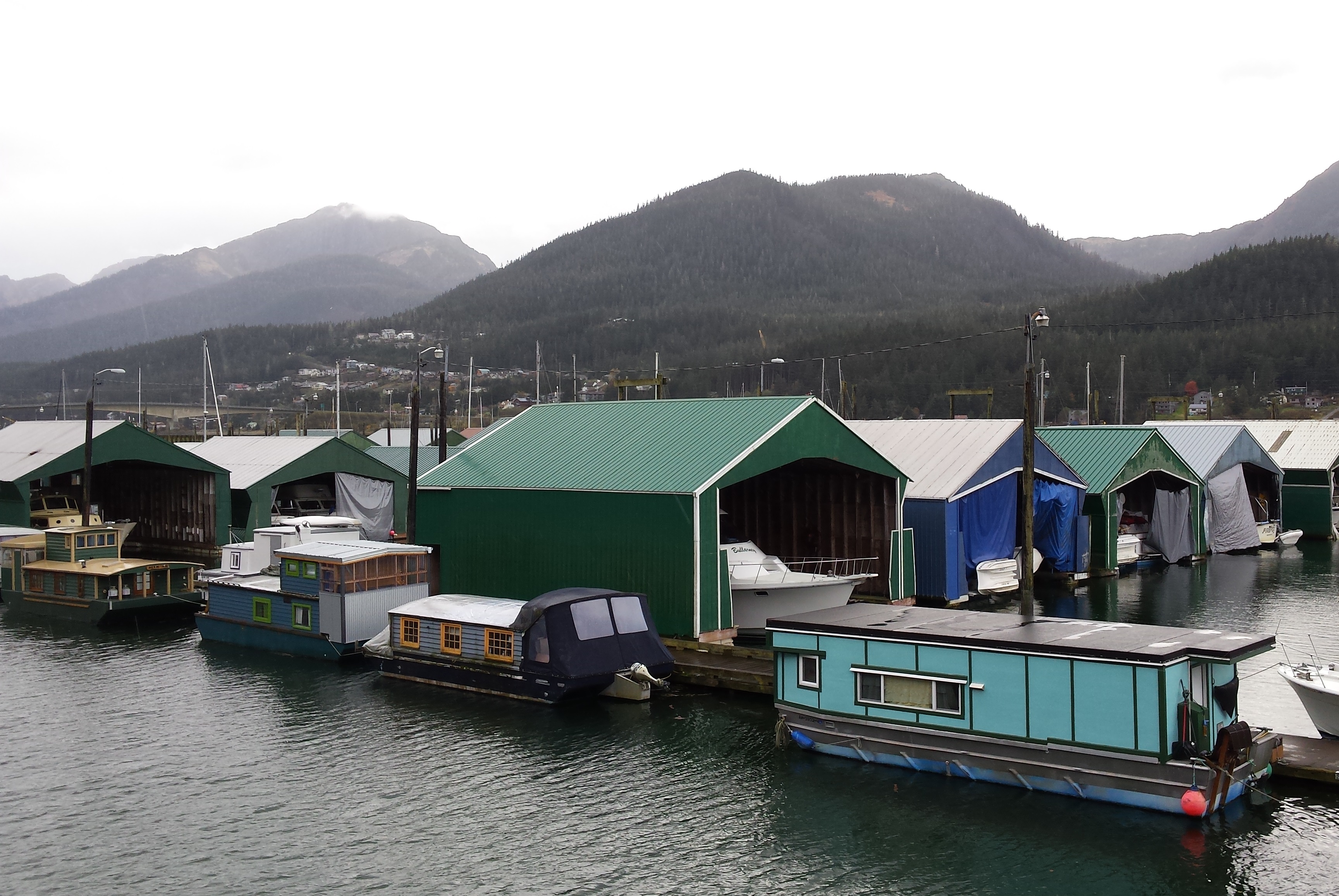 Juneau has some of the highest housing prices in Alaska. According to the  state Department of Labor, the average single family home costs $349,000 dollars in the capital city. A typical rental unit is more than a thousand dollars a month.
One way to combat the high cost of housing is to rent a slip on the docks for a houseboat or a live aboard.
Carrie Warren and her three children live in Aurora Harbor. She's originally from Washington state, but has lived in Alaska on and off for 20 years. In 2013, she moved to Juneau from Tenakee Springs. As soon as she came to town, she started looking for housing and found a houseboat that suited her needs.
"I chose it because I could actually own it. There are not very many things in Juneau that you can purchase for 50,000 dollars or less."
Warren says the seller financed the boat for her, and she paid it off in about a year and a half.
She says harbor fees add up to around $200 a month, plus a little extra for utilities. The city's Docks and Harbors department provides power, water, outhouses and a sewage pump-out. Warren says cooking can be a challenge.
"I have a Dickinson stove that doesn't work," she says. "It's not hooked up. And even if it did, that's mostly for heat. You can't bake on it. I mean, you can heat water. I can make a mean pumpkin pie in my toaster oven. I don't have a microwave. Electricity is hard because you can't have too many things happening at once. You blow your breaker."
Warren is a single mother who home-schools her kids and the boat is about 200 square feet. She says sometimes it's a challenge to make sure the family gets along in such a small area. Warren's older son plays upright bass and her daughter French horn and they need to arrange individual practice times.
"Our space and boundaries are different than most people's, and rather than sit around and whine about it, you just suck it up," Warren says.
Katie Spielberger is Warren's neighbor. She lives in a houseboat with her partner and a cat.
"A couple of our neighbors have seen the cat and have come by with an extra can of cat food or half a container of kitty litter that they found in the free bin," she says.
Spielberger works for the state and has been in Juneau for about nine years. She compares living on a boat to the tiny house movement, in which architects design homes that are less than 400 square feet. She says living in a small area has made her more creative.
"It's kind of nice to have that challenge to simplify things and it feels very rewarding when you actually can live in such a small space and have everything you need," Spielberger says.
She hangs as much as she can on walls, takes advantage of all available space and rents a storage unit. Spielberger says living on a houseboat provides the best of Juneau at an affordable price.
"It feels very much of this place," she says. "You don't feel like you're living in a house that could be anywhere. The views surrounding a boat in any harbor in Southeast Alaska, I think are gorgeous and hard to beat except at some very nice land property."
In addition to houseboats, some people in Juneau have live-aboards.
"There's a live-aboard vessel which is just your normal boat that somebody might live on," explains Harbormaster Dave Borg. "And then we do have some houseboats designated specifically just as a houseboat. They generally don't have any mode of power."
Borg says there are nine houseboats in Aurora, three in Douglas Harbor, two in Harris Harbor, and nearly 140 live-aboards. Monthly moorage fees are $4.20 per foot.
Warren says there are unique problems with houseboats, but they're mostly in-line with other homeowner concerns.
"When it's real windy, it's a little freaky. You know, I worry about things like my canvas blowing away, but you know, I think any homeowner when it's stormy and yucky has those same kinds of worries. Anybody who's living in a not super insulated home has those same kinds of worries," says Warren.
And she says it's more affordable than other housing alternatives.