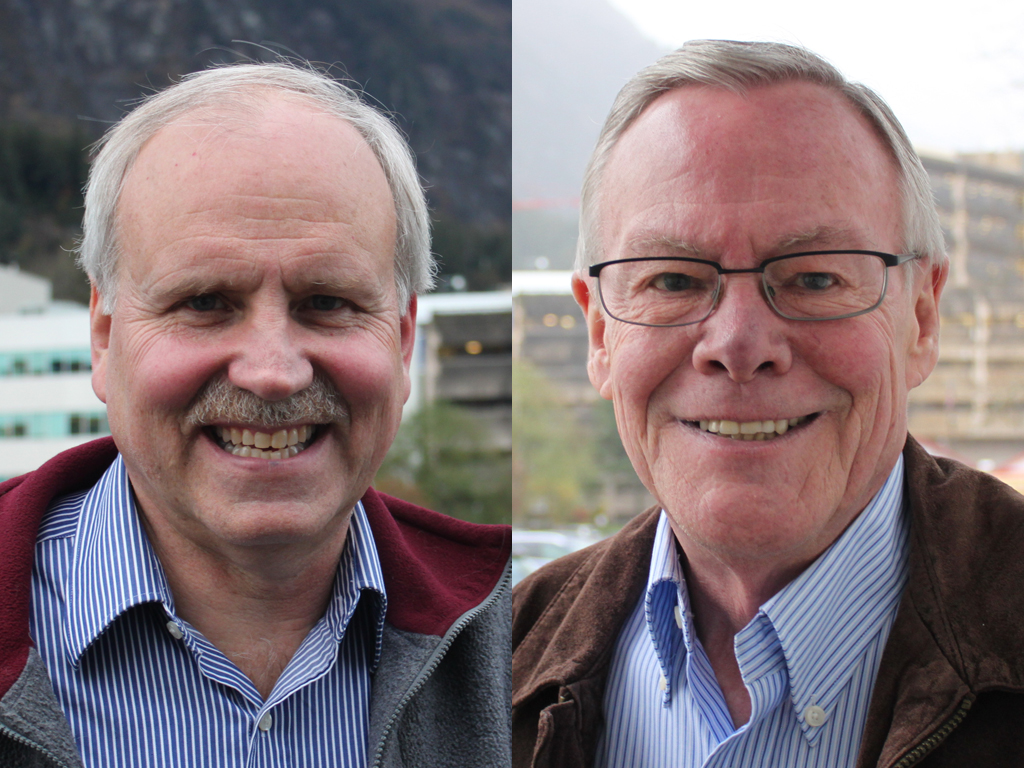 After five years in the state capitol, Democratic Sen. Dennis Egan is facing opposition. He's running against Republican Tom Williams for Senate District Q, which represents Juneau, Gustavus, Haines, Klukwan and Skagway.
Tom Williams didn't file to run against Sen. Dennis Egan until June 2, the filing deadline. He says he didn't want to see Egan go unopposed like in 2010. Williams wants to give people a choice.
"If there's no competition, how are you really going to vet somebody? These jobs are not because you come from a family that's been involved in politics or have a name. It really ought to be about what somebody has to offer," he says.
Williams says what he offers is budget experience. Since moving to Alaska in 1977, Williams has worked for the Division of Legislative Audit, Department of Revenue Enforcement Division, Permanent Fund Dividend Division and was a staffer to Fairbanks Sens. Steve Frank and Bert Sharp, both co-chairs of the Finance Committee. Williams is the chief financial officer for charter company Ward Air.
"Somebody said that there's no senator – current senator or senatorial candidate – that has anywhere near the financial experience in their pre-legislative life, nobody brings that external view to the legislature like I would," Williams says.
Dennis Egan, son of Alaska's first governor, William Egan, has had a career in broadcasting and held a number of positions in local government before his time in the capitol. He's been Juneau mayor, an assemblyman and a planning commissioner. Egan was appointed to the Senate by then-Gov. Sarah Palin in April of 2009, ending a stalemate between Palin and Senate Democrats. Egan says he's done a good job ever since.
"I think that I have a good working relationship with both Democrats and Republicans and I think I've brought home a lot of bacon to the capital," Egan says.
Egan points out the State Capitol Building is about halfway through its four-year renovation. He's says he's especially proud of helping secure $139 million to construct the State Library, Archives & Museum building, also known as SLAM.
What Egan is not happy about is school funding. While the governor's education bill did increase per student funding, also known the Base Student Allocation, by $250 over three years, Egan says it's still not enough.
"To make Juneau self-sustaining, we need an increase in the BSA of $423. We didn't even get close. In fact, over three years we won't even be close to what Juneau needs to make our school system sustainable," Egan says.
Williams doesn't necessarily think more funding to schools is the answer.
"I think we ought to be looking not at just throwing money at something. It's not throwing money at it – I mean, that's a very critical role of the state, is to provide education for our residents. But you know, you don't always just get something by spending more money on it. What alternatives are there? What can we do to fix something, make it easier to do your job to get that result, if you don't have any more money?" says Williams.
The two also disagree on expanding Medicaid coverage in Alaska, something Gov. Sean Parnell has resisted. Medicaid is a government program that helps finance heath care services for low income people. Egan is for expansion.
"There are a lot of people that are falling through the cracks and people that can't afford basic insurance, but with Medicaid, at least they'll get some benefit. And it's funded by the federal government to a great degree, so why are we not accepting the money?" Egan says.
Williams says Medicaid is a welfare program that seems compassionate, but really isn't.
"I don't think what we need to do is make people more and more dependent on the government. I think what we need to do is make opportunities out there where we can grow the economy, provide people an opportunity to get a job that they can then afford their own health care," Williams says.
Both Egan and Williams are in favor of the Juneau Access Project, but Egan is clear about also being pro-ferry. When he was on the Senate Finance Committee, he says $125 million was allocated for an Alaska Class ferry, one that could replace mainliners like the Taku and the Malaspina. Instead, he says the ferries being built in Ketchikan are day boats.
"The original day boats were open deck, which was just bizarre. I'm chair of Senate Transportation and I think through our efforts and efforts of House Transportation, we convinced the state to at least enclose the ferries," Egan says.
On the ballot measures, the two agree on voting against marijuana legalization and against requiring legislative approval for large-scale mining around Bristol Bay. While they have different feelings about the Pebble Mine, both think science should lead the decision, not legislators. Egan is for raising the minimum wage; Williams thinks it could hurt businesses.
On election night, Egan plans to be in Juneau awaiting the results. Williams will be in Uganda with his wife as part of a three-week trip in Africa.