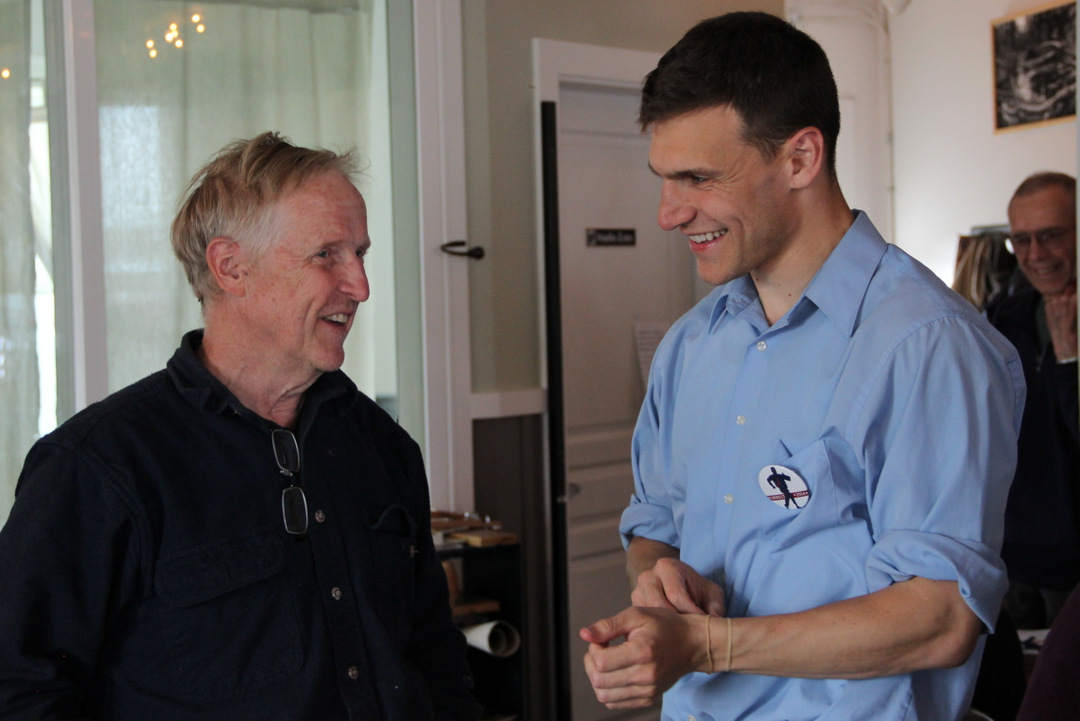 Anchorage Democrat Forrest Dunbar is hoping to challenge Don Young for Alaska's lone seat in the U.S. House of Representatives.
Dunbar faces Homer Democrat Frank J. Vondersaar in Tuesday's primary — and if he makes it through that race, the twenty-nine-year-old first-time candidate will likely face the longest-serving Republican in the U.S. House.
Dunbar visited Sitka last week (8-7-14), and talked about campaigning as an underdog, his vision for the state, and the virtues of 80's rock.
So, how do you challenge a 21-term Congressional incumbent with a 20-to-1 advantage in cash-on-hand?
Well, this is one approach…
Dunbar video: I just want to earn your vote tonight…I don't want to lose your vote tonight…
That's a campaign video from Anchorage Democrat Forrest Dunbar. The candidate lip-syncs his way through a parody of the 1986 song "Your love," with the lyrics re-written to fit the campaign trail.
Dunbar video: Alaska I'd do anything for you!
 KCAW: Who wrote the lyrics?
Dunbar: Mostly me [laughs]
Dunbar says the idea of singing for votes was all his.
Dunbar: I've realized that I used to like eighties rock sort of ironically, but now I just love eighties rock. I'm not sure what happened exactly…
KCAW: You might lose some votes on that one.
Dunbar: Well, you know, I get it, I used to be a hater with eighties rock, but I've come around, and there's sort of a deep genius to it…
He's hoping there's a deep genius to his campaign approach as well — using social media and grassroots organizing to take on 41-year-incumbent Don Young and overcome a major fundraising disadvantage:  At the end of July, Dunbar had about $27,000 in cash on hand, compared to Young's $566,000.
The videos may be silly, but in person it's clear that Dunbar is dead serious.
It's undeniable that right now we have a uniquely terrible and dysfunctional congress. And things aren't going to change until we change the people there and change the attitudes there. Now, in Alaska's case in particular, we have an ineffective representative.
Dunbar argues that Young has lost influence in Congress after years of ethics investigations. Young was formally rebuked by the House Ethics Committee this summer for misusing campaign funds and taking inappropriate gifts.
Dunbar: The real problem there is the impact it has on Alaska's credibility and Alaska's influence in D.C.  And I think that's what a lot of Alaskans are looking for – they're asking, 'Are you going to put yourself before the state?' Or are you going to be that public servant we need, that's not going to be concerned with personal enrichment, and is going to fight for transparency, and is going to fight to represent us? And is not going to squander the clout that Alaska built? And that's ultimately what he did. And again, there was a time when he was very effective, and he had a lot of influence in D.C. That time ended in 2008. It's never going to come back. He is what he is at this point, and we need a new representative who's on a positive trajectory.
Dunbar has an impressive resume: he grew up in Eagle and Cordova, and interned for then-Senator Frank Murkowski at age 17;  worked for House Democrat Madeleine Bordallo while an undergrad at American University;  spent two years in the Peace Corps in Kazakhstan; and received degrees from Harvard's Kennedy School of Government and Yale Law School. Since last August, he's served as a judge advocate general in the Alaska Army National Guard.
It's the resume of someone who looks like they've been running for Congress since they were in High School. Dunbar says that push comes from his family history.
Dunbar: My grandmother was a Holocaust survivor. Her dad perished in the camp and she came across as a refugee. And I think when you have that kind of background in your family – and my family, especially that side of the family, is very funny and into humor and that kind of a thing. But at the same time, there's sort of a seriousness there. My grandmother, when I was doing something that she considered kind of frivolous, she would tell me. She would say, 'Why are you wasting your time with this?' And I think that's a big motivator for me, and kind of kept me on the – maybe not the straight and narrow, exactly [laughs] but certainly pointed toward public service.  
On his website, Dunbar lists five top issues: veter ans' care, campaign finance reform, resource development, education costs — and gay rights. Dunbar says that last issue hits close to home.
Dunbar: Well, on a personal level, my sister is gay, and she's married, and she lives in the lower 48. And I'd like to live in a state where my sister's marriage – this is her home state, too, she was born in Fairbanks – I'd like to live in a state that recognized her marriage.
Dunbar says another key issue is developing Alaska's natural resources but also diversifying the economy, with an eye on the future, when the state will have to depend less on oil.
Dunbar: That means moving into high tech, it means continuing to develop and protect our fishing industry, it means a lot of things. That's one of our biggest priorities. And I do think that's the seminal, the central challenge for our generation, is figuring out where the jobs of the future are going to come from.
Dunbar will be on the primary ballot on Tuesday, August 19, running against Frank J. Vondersaar of Homer for the Democratic nomination for U.S. Representative.