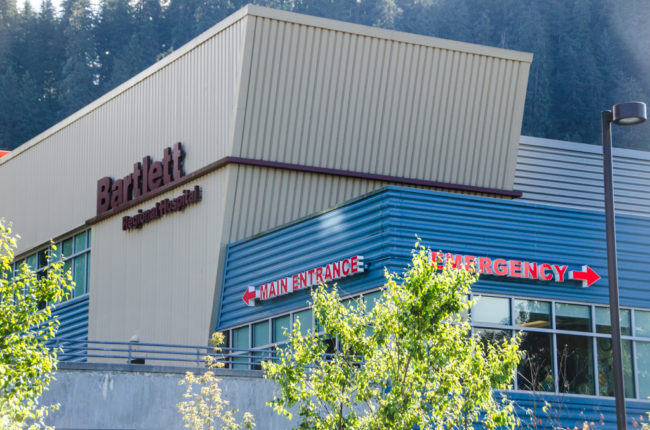 Interviews start today to fill the permanent CFO position at Bartlett Regional Hospital.
Finalists Cliff Hendren of Charlotte, N.C. and Bill Alsdurf of Kennewick, Wash. were brought to Juneau for in-person interviews. A third finalist, Sandra Bowen of Tennessee, withdrew her name Wednesday.
Hendren is the cost accounting director with Carolinas HealthCare System. Prior to that, he was vice president and CFO at Angel Medical Center in Franklin, N.C.
Alsdurf consults as a CFO and was most recently with Curry General Hospital in Gold Beach, Ore.
They were chosen from a pool of 18 applicants. No one from Juneau applied. The job was first posted in mid-April.
Human resources director Mila Cosgrove says hiring a permanent CFO will round out the senior leadership team, which includes CEO Chuck Bill, chief nursing officer Billy Gardner and Cosgrove.
"Anytime you have a change in leadership, there's always a little bit of uncertainty and that hope and fear aspect that goes along with that, so to speak. We're very much looking forward to getting a new person on and completing that leadership team and moving forward with the business of the hospital," Cosgrove says.
Finalists will go through various rounds of interviews with Bill, interim CFO Alan Germany, the finance department, management team and senior leadership.
Cosgrove says Hendren and Alsdurf will spend a couple extra days in Juneau getting to know the community.
"There's two parts to relocating somebody at that level. There's the work itself, right? And then you need to make sure that not only are they the right fit for the organization with the right skills and the right mix of things, but they also need to fit in the community and they need to feel like this is some place that they want to be," Cosgrove says.
Cosgrove says the CFO's salary will depend on experience.
Former Bartlett CFO Ken Brough's annual salary was $200,000. He joined Bartlett in August 2012 and resigned at the end of last year. He served as acting CEO when Chris Harff resigned last October. Both were under scrutiny during a personnel investigation last summer.
Alan Germany joined Bartlett as interim CFO in March. His salary is at an annualized rate of $360,000 with no benefits package.