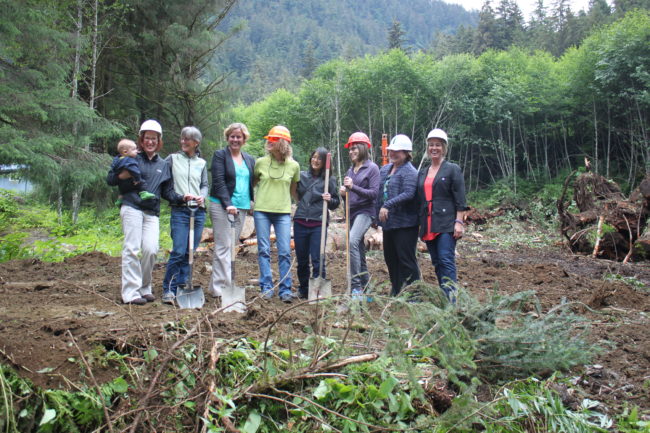 Women and children leaving AWARE's emergency shelter will soon have a place to live as they look for permanent housing.
Juneau's women's shelter and domestic abuse nonprofit broke ground for a transitional housing facility Thursday afternoon.
AWARE direct services manager Mandy Cole says it's emotional watching the acre of land being cleared.
"It's unbelievable in some ways. I'm going to cry a little. Because we've just worked so hard and our need is so great and the need of the women and children we serve is so great that to know that we are contributing in this really positive way to the community and to the women we serve is so gratifying," Cole says.
On an average year, AWARE provides up to 6,000 shelter nights for abused and battered women and children. This past year, the organization provided nearly 8,500 shelter nights.
Cole says women leaving emergency shelter need additional services and support before they're ready to plunge into independent living. She says transitional housing will allow women to build skills for financial independence.
"Market rental housing in Juneau is not affordable to our women. We're talking about folks with income of less than $10,000 a year," Cole says.
Rent will be subsidized in the 12-unit facility, which includes four efficiencies, four one-bedroom and four two-bedroom apartments.
Cole says the new housing will offer the latest technology in security that won't burden residents or staff.
"We'll be able to monitor anybody coming near or in the building from anywhere. I'll be able to do it from the emergency shelter. I'll be able to do it from my home," she says.
The transitional facility is estimated to cost $2.3 million.
AWARE executive director Saralyn Tabachnick says most of the funding is from the Rasmuson Foundation and the State of Alaska.
"And this community came through with nearly $200,000. So it's just so meaningful to me that everyone is invested in this. This is not just AWARE's project. It's really a project to benefit the community," Tabachnick says.
AWARE hopes to move women and children into the new housing by the end of the year.