The Funny River fire burned nearly 200,000 acres of the Kenai National Wildlife Refuge in May and June. Crews from around the state helped keep the fire at bay for several weeks.
On May 27, firefighters stumbled across something unexpected – a den full of wolf cubs on the fire line, five living and one dead. They were alone, hungry, and injured. The crew notified the Department of Fish and Game, who retrieved the cubs and transported them to the Alaska Zoo.
"They had been without their mother for a couple of days," says Shannon Jensen, curator of the Alaska Zoo. "They had porcupine quills in them so [they had] a lot of little abcesses here and there. A lot of little porcupine quills had to come out."
At only two and a half pounds each, the weeks-old cubs were malnourished and dehydrated when they arrived, and they were too young to survive on their own. It's likely they were abandoned when their parents fled the fire. And they were probably quilled when a porcupine crawled in the den seeking shelter.
Over the last two months, zoo staff has worked tirelessly to nurse the cubs back to health.
"They've developed a lot," says Jensen. "They're up to anywhere from 12 to 14 pounds. So, developmentally, they've gone from the baby eating formula stage to the toddler eating food stage in just that short amount of time. They're only going on nine to 10 weeks, we estimate."
Jensen says that's why this is a good time to send the cubs to their new home. The Alaska Zoo already has a wolf pack and they can't introduce these unfamiliar pups into that kind of tight-knit social group. Releasing them back into the wild isn't an option.
"Alaska doesn't allow rehab and release of mammals," says Jensen. "Plus, they came in so young and they needed a lot of hands-on care. They needed to be bottle fed. All that attention has really habituated them to us."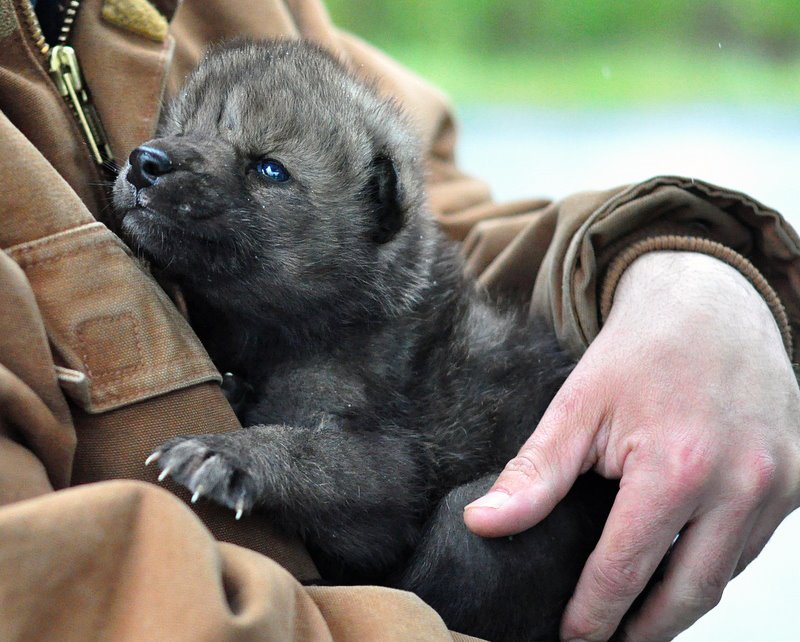 Despite being around humans for most of their lives so far, Jensen says they are not like pets.
"In no process in their life can we turn them into a domestic dog," says Jensen. "They always will have wolf tendencies. So, just like any habituated wild animal, they'll seek out people, because that's what they're familiar with. But, when they don't get what they want, usually food, they will turn wild and then that causes people to protect themselves and usually them ending up dead."
So, a zoo was the only viable option. The Minnesota Zoo has taken rescues from Alaska before and it agreed to keep the wolf pack together, which is important for such social animals.
Now, that little family has a direct flight to Minneapolis, where they'll be picked up by zoo employees. Jensen says the cubs will be missed. But, sending these cubs out of state is a good opportunity to teach more people about wild animals.
"It's sort of necessary down there with the reintroductions they did in 1995 and some of the problems they've encountered," says Jensen. "And it's really important to educate people that wolves aren't big, bad, scary wolves."
Although they'll be far from home, Jensen says a little bit of Alaska will always be with the cubs. Gannett, Hooper, Huslia, Stebbins, and X-Ray bear the names of their rescuers' hometowns and firefighting division.