Update | May 28, 2014 – 6:02 a.m.
We've updated this story in a new post here: Scent of missing hiker found on trail but no cell phone trace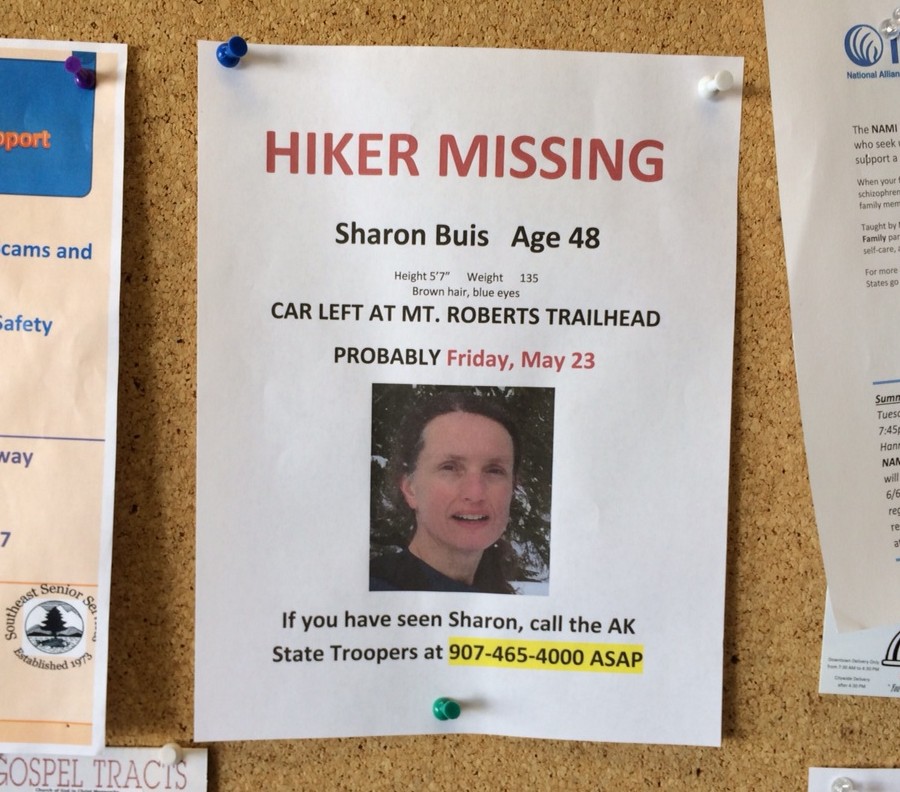 Update | May 26, 2014 at 1:13 p.m.
Alaska State Troopers say they'll use a helicopter for an aerial survey of the area's rugged terrain on the second full day of searching on Monday. No clues were found to Sharon Buis' disappearance when searchers scoured the area on Sunday.
Alaska State Trooper spokesman Tim DeSpain said they were notified of Buis' disappearance when a friend spotted her locked car at the Mt. Roberts trailhead and contacted the Juneau Police Department at about 10:15 p.m. on Saturday. Troopers, Juneau Mountain Rescue, and Southeast Alaska Dogs Organized for Ground Search (SEADOGS) started a hasty search at first light or just after 2 a.m. on Sunday morning.
DeSpain said employees of the Mount Roberts Tram have been helping with the search, and a search and rescue command center has been established at the upper tram terminal.
DeSpain said they received a report that Buis was spotted at or near the upper tram terminal on Saturday.
Original story on May 26, 2014 at 6:54 a.m.
Alaska State Troopers, SEADOGS, and Juneau Mountain Rescue will continue searching on Monday for a missing woman believed to be hiking in the vicinity of Mt. Roberts.
Sharon Buis, 48,  is described as 5-foot 7-inches tall, 135-pounds, with brown hair and blue eyes. She is believed to be in good physical condition.
Buis was last seen by friends or family on Thursday or Friday, and her locked car found was at the Mt. Roberts trailhead. She did not show up for a planned meeting with friends on Saturday morning.
In addition to Mt. Roberts, searchers said they also planned to canvass nearby Gastineau Peak and the Sheep Creek area.