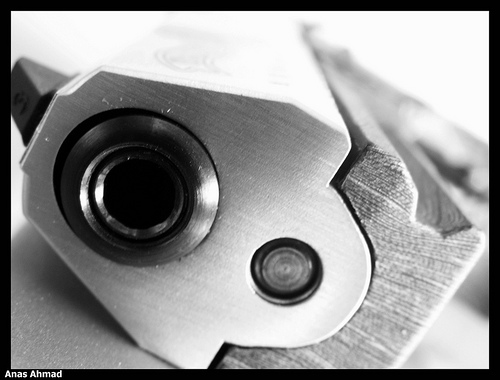 A burglary at a Mendenhall Valley home netted the thief about $14,000 worth of firearms and electronics.
Juneau police want some help with the case.
A Gee Street resident was working out of town when his house was burglarized earlier this month. Police report 10 guns were stolen, including rifles, shotguns, and handguns.
Lt. Kris Sell says the theft fits the profile of a person who may be stealing to support their drug habit.
She says anyone approached to buy a gun should be immediately suspicious, especially if the guns are being sold for less than market value, or if the seller wants to meet the potential buyer in an unusual place.
"We're asking people who buy guns and who might be approached to buy these guns to be suspicious if any of the makes and models match what we've put out from this burglary."
It's unclear how the burglar got into the house, Sell says, because there was no sign of forced entry. She says finding some of the guns will help police trace the perpetrator.
The firearms taken include one DPMS AR-10, a Palmetto Arms AR-15, and a Windham Weaponry AR-15 with Trijicon Optics and bi-pod. A Mossberg 12- gauge shotgun, a Browning 375 H&H with a Leupold scope, and a Browning 300 Winmag also were stolen.
The handguns taken were a .22 caliber Ruger with Leupold Optics, a .45 Glock with Surefire tactical light, and a Walther P22 with laser sights. A .44 magnum Smith and Wesson also was stolen.
It's not known how many people were involved in the burglary. The homeowner told police that a black Apple iPad with case, and GoPro camera with accessories also were taken in the burglary.
Lt. Sell says anyone with information about the guns, the electronics, or the burglary should go to Juneau Crime Line.