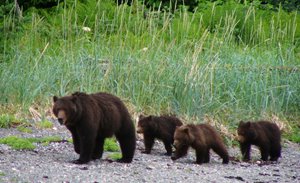 State wildlife officials are warning people not to stop and watch bears along the roadside.
A black bear family in the Auke Bay bypass area is beginning to draw a crowd.
Alaska Department of Fish and Game Wildlife Biologist Ryan Scott says a sow and three cubs have been seen near the driveway to Aant' iyeik Park, and traffic is creating problems for the bears as well as people.
"Lots of vehicles going by, pulling to the side of the road, parking near the road and people getting out of their vehicles and approaching these bears very closely," he says.
I want to encourage people not to stop."
Another bear family was seen in the same area last spring, which Scott says created similar traffic problems. He says some of those who stopped got out of their vehicles and approached the bears.
Later in the summer, the bear family moved away from the roadside and into neighborhoods.
"They were a challenge for us as well as the people living in those areas," he says. "It's quite possible they were very comfortable around people after having all these visitations and spending time with people on the side of the road."
He says the bears are drawn by the early mature spring vegetation in the area.
Scott says it's never a good idea to approach bears, no matter how cute the cubs may be.