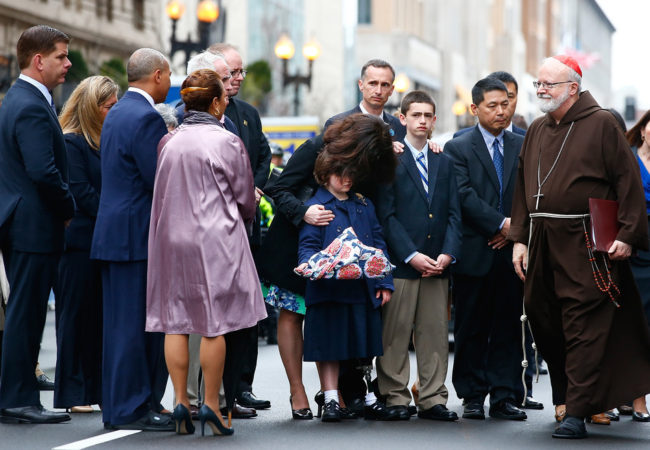 On this April 15, Americans are thinking about the Boston Marathon bombings that occurred one year ago; in and around Boston, people are also looking back on a year of healing. The day's events will culminate in a moment of silence at 2:49 p.m., the time of the first explosion. Vice President Joe Biden will join officials in a tribute near the race's finish line.
A large crowd is expected Tuesday along Boylston Street, the scene of the cruel attack that police say was carried out by two brothers. One was later killed; the other awaits trial. On Monday, 200 people affected by the attack gathered on the finish line for a mass portrait by The Boston Globe.
Today's memorial service will begin at noon, ET, with Biden attending with Gov. Deval Patrick, Boston Mayor Martin Walsh and former Mayor Thomas Menino at the Hynes Convention Center. Afterwards, a flag-raising ceremony will take place at the finish line, between 2:30 and 3 p.m.
We'll feature tributes and remembrances here today, updating this post as events progress.
Update at 10:30 a.m. ET: Brothers Who Lost Legs Walk Toward Boston
Paul and J.P. Norden each lost a leg in last year's attack. That's not stopping them from walking to Boston today – local TV WCVB reports that the two brothers are setting out from the race's starting point in Hopkinton, Mass., this morning. They admit they might not make the entire 26.2 mile trip – but that's not the point, they say.
"We had so much support from everybody," J.P. says. "At one point it was the worst year of our life, and sometimes it was the best year of our life."
"There's no way we would've ever thought we'd be walking this today," Paul says. "I never would have thought I was walking, after what happened last year."
Asked what's next for them, J.P. answered, "We gotta get through this 26-point-something miles first," bringing laughs from his brother and the reporters.
As The New York Times reports, at last year's race the brothers were "both strapping construction workers in their prime who were there to cheer on a friend."
Our original post continues:
"I'm really excited because I love being with the other survivors," attack survivor Jeff Bauman tells USA Today of today's events. "I hope there's a lot of first responders there. I want to say thank you to everybody."
Three people were killed a year ago: Krystle Campbell (29), Martin Richard (8), and Lu Lingzi (23). Police officer Sean Collier died days later as authorities pursued the suspects. Hundreds more were injured, some severely.
Lingzi's parents, Jun Lu and Ling Meng, will be at today's ceremony, having traveled thousands of miles from China to be in Boston.
"We cherish everything that Lingzi was a part of," Jun Lu tells The Boston Globe through an interpreter. "Even though last year's Marathon [was tragic], we want to be there to witness something good come out of it."
The victims' families attended a wreath-laying ceremony this morning, as Gov. Patrick and other officials joined with police and fire department officers to commemorate them. And in Newton, Mass., which was under a partial lockdown one year ago, police tweeted a defiant message, saying the city had gone "from Boston Strong to Boston Stronger!"
Eight runners who are entered in the 2014 Boston Marathon have been
documenting their training
and personal stories for NPR in a Tumblr blog. Some of them ran in last year's race; others were inspired to enter this year's race to honor the victims. Running the race this year also brings a chance for healing and closure.
NPR's Wright Bryan recently spoke to one of those runners — Demi Clark, who was among the last group to finish last year's race before homemade bombs wreaked havoc in Boston.
Clark now lives in Charleston, S.C., a move she says was brought on by a new willingness to change.
As Clark recently wrote, "That has been a theme this year. I don't allow myself to say 'no' to things that are potential 'no second chances.' I hug my children tighter at bedtime (and I don't miss a chance to tuck them in — EVER — something I used to do)."
Member station WBUR in Boston describes what happens after today's tributes:
"From there, the city and race organizers must turn their attention to Monday, when a million spectators are expected to line the 26.2 mile course from Hopkinton to Boston to cheer on the second-largest field of runners in the race's 118-year history."
Copyright 2014 NPR. To see more, visit http://www.npr.org/.
Read original article – Published April 15, 201410:09 AM ET
Boston Stronger: City Marks One Year Since Marathon Bombings