Know what was hip in Juneau during the late eighties? I'll give you a hint, it wasn't the mash potato. It was contra dancing- and it certainly isn't square. While it may not be the king of downtown Juneau dance moves, it makes a comeback every year at the Alaska Folk Festival. But how did this swinging sensation become such an integral part of folk fest culture? I joined the pros  Anne Fuller, Odette Edgar, and Tom Paul at St. Ann's Parish for a little dance lesson to find out.

The easy answer is that it's fun and almost anyone over the age of 8 can do it. The contra world is incredibly accepting and you don't need any experience to join in—but knowing the basics will help.
The Juneau Contra scene started up in the late Eighties when Tom and others traveled to the Dancing Bears dance camp in Anchorage and got hooked. The dance venue at the Alaska Folk Festival began in the early 1990s. Until then the dancing happened after hours in the festival's main hall.
Tom serves as Caller at contra affairs, where his job is to tell the dancers how to move on the dance floor. Before every dance begins, Tom and experienced participants lead a run-through of the moves and patterns that will be featured in the next dance. Once the music kicks in, Tom is on mic giving the participants advance warning of the next move. His goal is to eventually drop out and just let people dance. Odette says the caller is usually thinking about a million things, including  judging the tiredness or participants and making sure everyone gets a chance to dance with everybody.
And getting a chance to dance with everyone is a huge part of contra. Contra offers opportunities for social mixing and is a great way to meet people. When Tom started dancing he was single, but he quickly learned the names of all the women after a few jigs. Be prepared to change partners.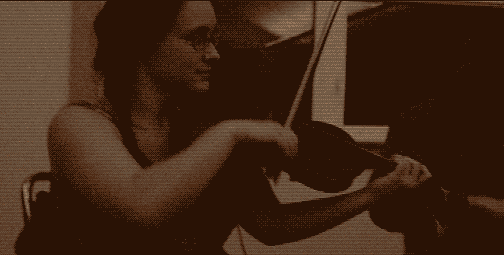 While contra dance shares some similarities with square dancing, the contra world has its own distinctions it's proud of. The biggest difference is the organization of the dancers, instead of couples forming square patterns, they form long lines across the dance floor. Contra dancing also always happens to live music. While other styles might feature the old-timey classics, Anne says contra is all about the French Canadian, Scottish and Irish reels and jigs. For all the pickers out there, each dance sequence is 32 bars longs, 16A and 16B, which lasts about 30 seconds. Think of the melody of the Christmas tune "Good King Wenceslas" for reference. The band will change up the song midway through the dance, ending usually when all couples have gone through the line.
Though the "anyone can do it" part is true, contra dancing is a physical activity and there's the potential to work up a serious sweat. Odette says a single night of dancing could easily be equivalent to a five mile brisk walk.  Though there's no strict dress code, there are some fashions that make life on the dance floor a little more tolerable. Anne, Odette and Tom all suggest wearing cool clothes and preferably soft-soled leather shoes that work well to slide across the floor. Tennis shoes also work but tend to be a little grippy, and high heels will just make you unstable, so save those for post-contra night on the town. Fashionable contra women wear big flowy skirts and men sometimes even wear shorts. Jeans are perfectly appropriate, just don't set yourself up to be trapped in a sweater or flannel shirt.
Some of the mistakes first time dancers are pretty easy to avoid.
1.Make sure you're close enough to the Caller to know what's happening during the dance. If you can't hear the caller, it's hard to follow along.
2.Don't get too carried away during your first contra experience. Some beginners think they need to skip around the dance floor when they can just concentrate on moving with the music.
3. Don't just pair up with your friends, switch around and find experienced partners to ease you through the dance.
4. And don't be worried about being alone.
"If you stand up and walk around, someone will usually snare you," Odette says.
Still worried you won't be having the time of your life?
"You can be as rowdy as you want, as long as you don't mess it up for anyone else," Tom promises.
Join Anne and Odette with the Bob McQuillen Tribute band  Thursday night at 10:00 at the JACC and check out the Alaska Folk Festival Dance Schedule for more opportunities to strut your stuff this Folk Fest.