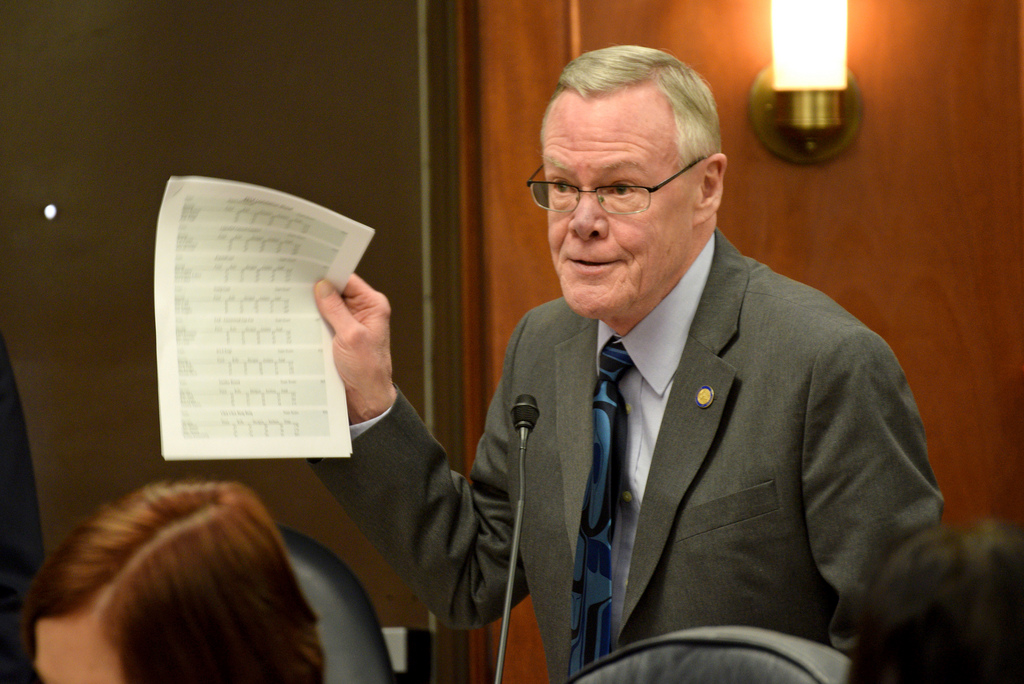 An Alaska Senate committee will hear public testimony Tuesday on Juneau Sen. Dennis Egan's latest bill to give public employees a choice of retirement systems.
Senate Bill 30 would let local and state government workers choose between a traditional pension and a 401(k)-style savings account. Those options are referred to respectively as a defined benefit and a defined contribution plan. In July 2006, Alaska became the only state in the country to offer only a defined contribution retirement plan.
Egan presented the bill to the Senate State Affairs Committee last week.
"A defined benefit pension takes time to earn, but it rewards public servants by letting them earn a guaranteed monthly benefit when they retire," Egan said. "But many will choose the defined contribution that we currently have. Some have military or private sector pensions. Some have a spouse that's deployed here in Alaska and don't plan to stay in Alaska for more than a few years. Others want to control their investment or take their savings to their next job."
The Senate passed a previous version of Egan's bill on the last day of the 2012 legislative session. But the House didn't have time to consider it, and the bill died. Egan says it would have saved the state $70 million in the first five years.
Alaska's Public Employees Retirement System currently has a nearly $12 billion anticipated deficit. Deputy Commissioner of Administration Mike Barnhill says the Parnell administration is reluctant to change the system over concerns that it could add to the shortfall.
"We need to bear in mind that when we turn on a defined benefit promise, we're making a promise for a 20-year-old new state employee that we need to keep for up to 70 years," Barnhill said. "So when we make these promises we need to look forward and ask ourselves, what is the fiscal situation of the state going to be, not just in the 2020s, but the 2050s and 2060s?"
Only three members of the public had time to testify on the bill at Thursday's hearing. Jacob Berra said he and his wife are teachers in Chugiak, who moved to Alaska in 2003 before the pension option was eliminated for new public employees. He said they wouldn't have moved to Alaska without the pension option.
"We made our choice responsibly with the goal of putting our roots down and starting a family," Berra said. "I can tell you with certainty that based on the current job outlook and the current retirement plan we wouldn't make that same decision today. We simply couldn't risk our family's future."
State Affairs Committee chairman Sen. Fred Dyson, R-Eagle River, has scheduled public testimony on the bill for Tuesday morning.