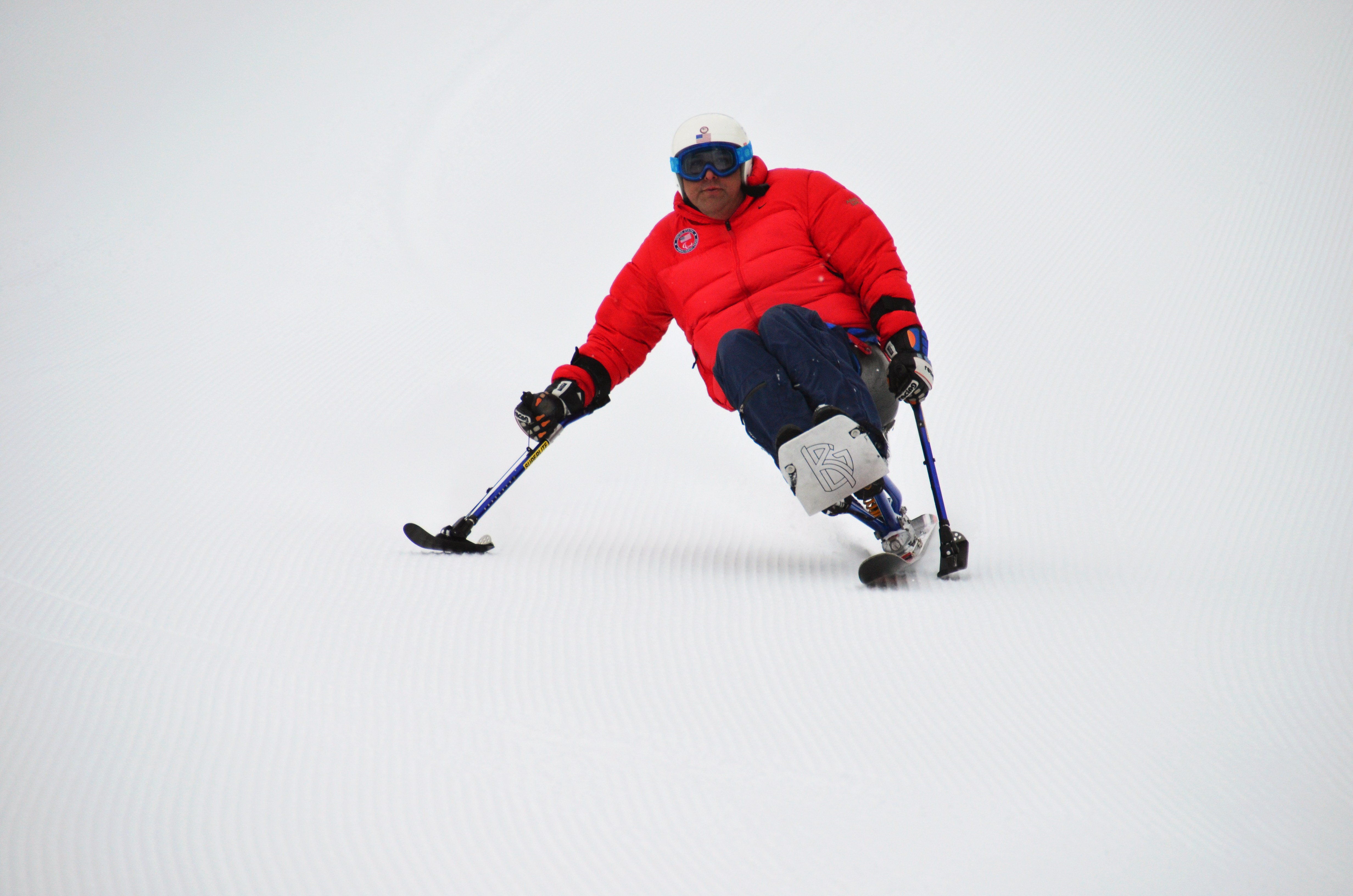 Juneau's Joe Tompkins will represent the United States in the Paralympic Winter Games in Sochi, Russia.
Tompkins and Andrew Kurka, of Palmer, are among 26 athletes named to the U.S. Paralympic Alpine Ski Team.
Tompkins has been racing since 1999, when he qualified for the U.S. Disabled Alpine Men's Ski Team.  He's had a successful World Cup race career, but has never won a medal in the Paralympics.
Sochi will be Tompkins' fourth Paralympic Winter Games.
"Four and done."
Tompkins admits he's said that every four years since the Salt Lake City Paralympics in 2002.
When he gets to Sochi, he will be skiing a single downhill race.  To get ready, he's been bombing the trails at Eaglecrest Ski Area.
Coming out of retirement
Tompkins is paralyzed from the waist down. He sits in what he calls a bucket atop a single ski.  His gear looks like it's held together with duct tape.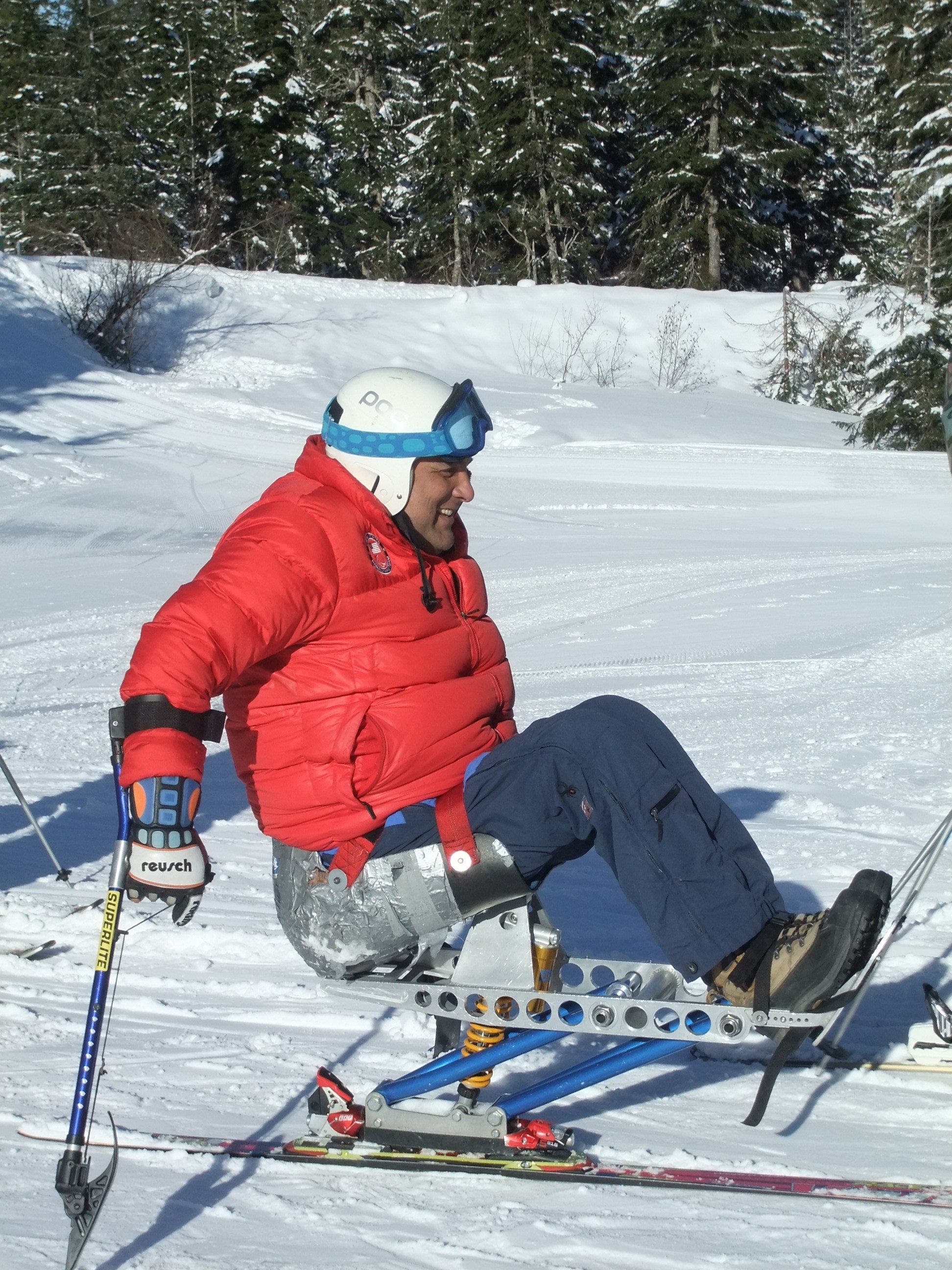 Now age 45, he'd decided it was time to retire from racing.
Then he got a call from the Paralympic alpine team coach who said Tompkins should join the team in Sochi.  First he needed to get back on his mono ski and prove he could still compete, so he went to Aspen for the U.S. National Championships in early February.  He came in sixth.
"After  three days of skiing — for the season," he says with a laugh.
The Paralympic downhill course at Sochi is similar to the Olympic downhill, with some of the same jumps.
"There's going to be some air in there.  You just have to have the confidence, the balance to land it and keep going," he says.
Tompkins says mono-skiers can get a lot of air.
"If you watch the able-body coming up to a jump, they suck up their knees so it's less, but we're going with a solid shock.  You have to be pretty quiet in the air to land it because you're on one ski," he says.  "The two outriggers that people see in your arms, those are just for balance, those aren't for skiing at all."
Tompkins says he wasn't convinced he should go to the Paralympics.  Sochi is a big commitment; baseball training is getting underway and he's assistant baseball coach at Thunder Mountain High School.
"I told my mom I didn't think that I should go over there, and she goes 'what  would tell your boys?'  That pretty much stuck in my head.  Of course I would tell 'em to go for it.  Swing the bat, swing it like you mean it."
Tompkins was paralyzed in a 1988 alcohol-related car accident near Auke Bay.  He wasn't driving, but he and three other young men in the car were drunk.  One died.
A few years later it hit him.  That's when he decided he needed to help kids stay away from alcohol and drugs.  His message is blunt.
"If you get into drugs and alcohol, it's going to be harder to get out of that and come back to where your dreams and goals are.  I'm a constant reminder because they ask me what happened to me.  And I tell them.  I don't lie to them, I don't sugar coat it," he says. "It's about motivation.  It's about never giving up."
To compete  in the Paralympics, Tompkins says he's been training to build confidence and balance as well as speed.
"I'm just  thinking I've got to ski smart, ski fast and let it go.  I would hope that the fourth is my lucky charm."