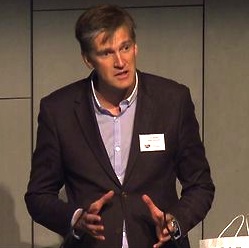 New connections, collaborations, and perspectives on Southeast Alaska industries will be the focus of this week's Innovation Summit, hosted by the Juneau Economic Development Council.
JEDC Executive Director Brian Holst says the event is designed to help the community understand a successful economic development process.
"We bring in outside perspectives to share best practices from other places to help inform our thinking about how we address the opportunities and challenges in our economy," Holst said. "And then we also see a focus on key industries in our region. What I mean by that is the industries where we see most of the employment and traded industries, industries that bring in money from around the region."
This year's summit includes a talk on the seafood industry by Thor Sigfusson, Founder and Managing Director the Iceland Ocean Cluster. In economic development-speak, "clusters" are basically industry groups designed to foster collaboration. The Iceland Ocean Cluster started at the University of Iceland, but now operates as a private company.
Other speakers include Mary Jo Waits, Director of Economic and Workforce Development for the National Governor's Association. She'll be part of a panel discussion about the role of government in economic development, featuring Alaska lawmakers, commissioners, and industry leaders.
The winners of the Path To Prosperity contest will also be announced during the summit. The contest is sponsored by Haa Aanì, the community development arm of Sealaska, the regional Native corporation for Southeast Alaska and the Nature Conservancy. Two winners will receive up to $40,000 in seed money for their new businesses. The idea is to create small businesses that can survive and grow in Southeast Alaska.
This is the third year JEDC has held the Innovation Summit. Holst says networking has been one of the biggest benefits of previous conferences.
"We've got these keynote presentations from these outside perspectives that are really world class. And then interspersed we have plenty of time for people to not only engage with each other, but we've also set aside time for participants to be able to engage with the presenters."
The Innovation Summit will be held Wednesday and Thursday at Juneau's Centennial Hall. The cost to attend both days is $150, including food. Other pricing options are available for students or those who only want to attend part of the summit.
Link:
Innovation Summit agenda