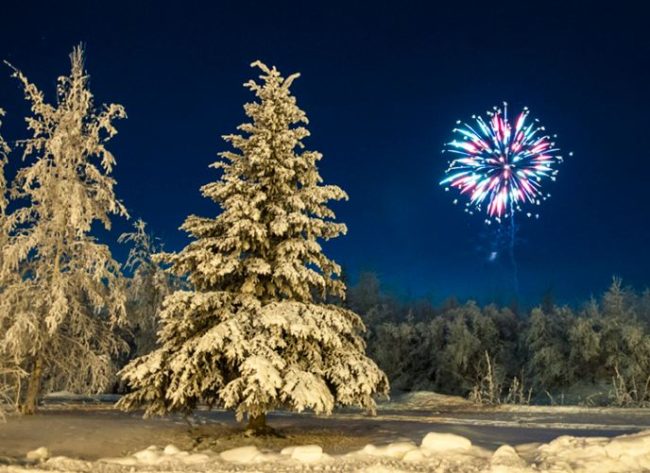 New Year's Eve tends to be a noisy night. Add fireworks and there's all kinds of ramifications – anxious dogs, noise complaints, and potential injury.
"Fireworks are not illegal right now; disturbing the peace is," says Erann Kalwara, spokesperson for Juneau Police Department. She says police will respond to complaints of firework activity, particularly when it's disturbing the peace. "We do step up response to those calls when other patrol activity allows, so the patrol shift supervisor has to prioritize what's going on and if we have someone available, we absolutely respond to fireworks complaints."
Juneau Police Sgt. Chris Gifford says when it comes to prioritizing threats to public safety, nuisance calls are at the bottom of the list:
"If we had a report that there was a drunken driver – somebody saw a vehicle swerving on the road – and another report that someone was shooting off fireworks and it was bothering their sleep, we would go to DUI call first because that is what we would prioritize as being more hazardous than the other one."
State fireworks regulation allows the use of small fireworks, like roman candles, firecrackers, and skyrockets, each with its own specific limit on weight and size, as well as other restrictions.
"You've got to be a good neighbor and if people are up at 3 a.m. shooting them off, that's when you can call the police department, and we will respond to talk about the noise issue because it can't be disturbing people's peace," says Gifford. "It is legal to use them in neighborhoods, but it isn't legal to use them in reckless manners, like shooting them at people and things like that."
While the majority of the fireworks complaints on New Year's Eve are about disturbing the peace, Lt. Kris Sell says a few calls that come in do concern fireworks being shot at people, "We have had that happen in the downtown district before. Understand that that could be considered a dangerous instrument and potentially treated as a felony assault."
Animal Control and Protection Services Director Matt Musslewhite says fireworks around New Year's Eve is not usually a big issue for dogs, compared to July 4th.
Animal Control did not respond to any incidences of dogs running away last December 31, something that could happen to dogs that are anxious over fireworks. Other signs of anxiety include panting, pacing, and shaking.
If your dog does take off after hearing a loud firework or noisemaker, Musslewhite recommends calling Animal Control and filing a lost report, "We may have received calls from people in the public that have seen the dog or possibly have the dog. If your dog has tags on it we can certainly help get him home faster."
Musslewhite says prevention is the best way to handle dog anxiety over fireworks:
"Some of the things that we recommend is turning up background noise in your house – turning up the TV, turning up radios – that helps muffle some of the sounds from the fireworks. If you can move your pet to an area that may be not as prone to festivities in the area, that's certainly a good option as well."
According to Capital City and Fire Rescue, firework usage appears to be more prevalent during the first week of July with limited activity during New Year's Eve.
Deputy Fire Marshal Sven Pearson says the best way to protect your family is not to use fireworks at home at all. He recommends attending public fireworks displays and leaving the lighting to the professionals.
Pearson also says sparklers are not toys. They can reach 1,800 degrees Fahrenheit, which is hot enough to melt some metals.