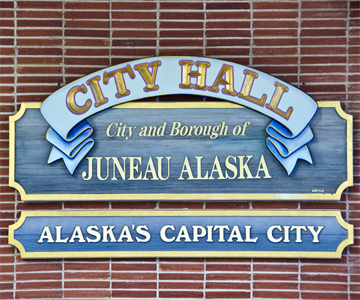 In a split vote Tuesday night, the Juneau Assembly replaced two incumbents on the city Planning Commission.
Juneau's Planning Commission reviews proposed construction and development projects to make sure they're consistent with city land use laws and the comprehensive plan. It also makes recommendations for project conditions and any necessary permits.
Jerry Medina served two years on the panel, after being appointed to fill a vacancy in November 2011. Nathan Bishop served one three-year term. Both applied for new terms.
"Let me start out by saying, we had an incredible depth of talent in the applicant pool," said Jesse Kiehl, chair of the Juneau Assembly Human Resources Committee.
Kiehl was one of four Assembly members on Tuesday, who voted against a slate of Planning Commission candidates that did not include the two incumbents, Medina and Bishop.
"It takes a long time to get up to speed on some of the Planning Commission issues," Kiehl said. "So my biggest issue really had to do with returning some of those folks who'd been serving for years and were doing a good job, even if they didn't always vote the way I wanted."
Bishop, a self-employed general contractor, declined to comment on Wednesday.
Medina, an administrator for the Inside Passage Electric Cooperative, said he was disappointed.
"I spent considerable time reviewing my packet and was prepared for each meeting," Medina said in an email late Wednesday night. "I based my findings on sound judgment citing specific sections within the Land Use Code and Comprehensive Plan. My attendance record was very high and I missed very few meetings."
Medina said he felt his experience merited at least another year on the commission.
Bishop and Medina were replaced on the commission by former Juneau School Board member and Assembly candidate Bill Peters and consultant Gordon Jackson – a former educator and administrator for Alaska Native corporations and tribes. The Assembly also appointed Architect Paul Voelckers to fill out the remainder of former commissioner Marsha Bennett's term, and reappointed electrical engineering consultant Ben Haight to his seat.
Assembly members Kate Troll, Loren Jones and Karen Crane joined Kiehl in voting against the candidates.
"I don't think that these appointments will radicalize the commission or anything," Kiehl admitted. "We have some very strong folks who will be joining the commission."
Assembly member Jerry Nankervis voted with the majority to appoint the candidates. Nankervis currently serves as the Assembly's liaison to the Planning Commission.
"My opinion on the four that I voted for on the slate," Nankervis said. "Was that they each bring something a little different that I think will fit in good on the Planning Commission."
Nankervis says he likes the experience Peters brings from serving on the school board. He notes that Jackson has a vast planning background from his time running Native corporations. He says Haight really does his homework, and Voelckers brings experience developing large projects, especially with schools.
"Service on the Planning Commission requires a lot of time," Nankervis said. "And the volumes of stuff that they've got to read and go through before their meetings, I have not been to a committee, a commission, or a board that has that kind of volume of work in front of it. And I'm appreciative. I'm appreciative of Jerry's service on the Planning Commission and Nathan's."
In the past two years several Planning Commission decisions have been appealed to the Assembly. Both Kiehl and Nankervis say the number of appeals did not affect their votes on appointments. Nankervis says the commission is dealing with a lot more projects than it has in the past.
"Particularly in the building industry," Nankervis said. "We had that downturn in the economy that stopped growth – new homes, subdivisions, things like that, we just haven't had for a number of years. And I think that anytime you have more going on, you will have more opportunity and probably more appeals."
There were 13 applicants for the four vacancies on the Planning Commission.
Peters, Jackson and Haight will serve three-year terms starting January 1st. Voelckers' term will expire December 31, 2014.
(Note: This story has been updated with comments from Jerry Medina, who was out of town and initially unavailable.)