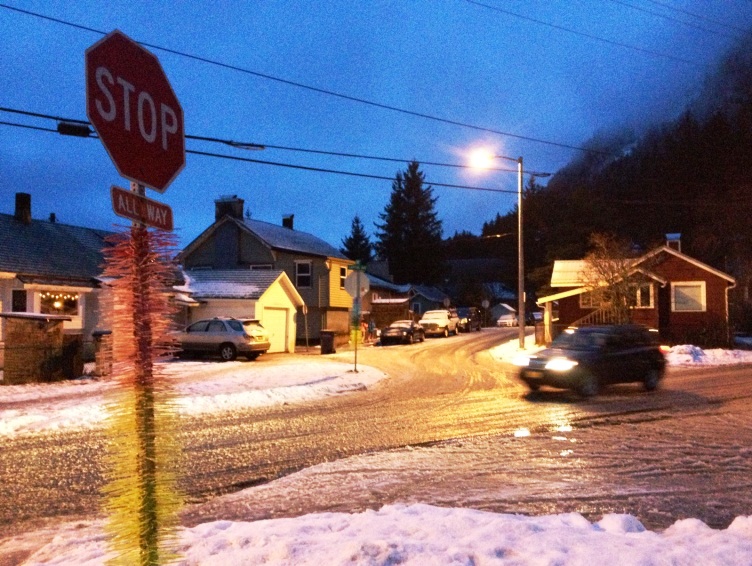 A winter storm warning has been issued for Juneau through Thursday afternoon.  Forecasters say the strength of storm depends on an Arctic front in northern Lynn Canal.
National Weather Service Warning and Coordination Meteorologist Joel Curtis says the Klondike area could get clobbered and Juneau could even see a lot of snow.
"The National Weather Service issues a watch when the hazardous weather that we see is in the distance and we have some likelihood that it would happen, but we're not dead certain on it," Curtis says.  "Whereas when we issue a warning, and that's a key word warning, we're really certain that's going to happen." 
The weather service has issued the winter storm warning for Juneau, Hoonah, Gustavus and on out to Elfin Cove and Pelican.
Curtis says forecasters are closely watching that Arctic front.
"On one side of the line will be heavy snow and on the other side of it will be rain. And if we're wrong by just a few miles it could be a heck of a difference," he says.  
The winter storm warning is in effect until 4 p.m. Thursday, with a storm total of 13 to 24 inches.
Curtis says the snow is exactly what Eaglecrest needs to fill in the upper mountain.  The ski area was able to open only the beginners' runs on Saturday.
Juneau's ski area also needs votes in the final round of Powder Magazine's Ski Town Throwdown.  Eaglecrest is pitted against Crested Butte Mountain Resort in Colorado.  Voting is once every 24 hours through Friday.