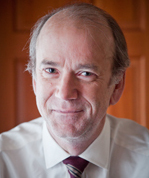 State Senator Hollis French has announced his plans to run for lieutenant governor.
The Anchorage Democrat had been considering jumping into the gubernatorial race, but set aside those plans after former Juneau mayor and Permanent Fund Corporation Director Byron Mallott announced he would seek the Democratic nomination. French says he wanted to avoid expending resources on a competitive primary race.
"I came to a place where I could see that he was going to be a stronger general election candidate than I would be, and since I'm really interested in winning, I thought the best way I could help him win is to run for lieutenant governor," French said of Mallott.
As the incumbent, Governor Sean Parnell is not expected to face any competition in the Republican primary. Bill Walker, who has filed as an independent, just needs to collect signatures to get on the general election ballot.
French has served in the state legislature since 2002, and he's run for governor before. He says that even though the candidates for governor and lieutenant governor don't have to run on the same ticket until next August, he and Mallott already plan to support each other.
"You will see us working together on the campaign trail. You will see us articulating and emphasizing different issues," said French. "But you know, once we come together as a team, that's when the two platforms have to merge."
Bob Williams, a teacher from the Mat-Su region, filed to run for lieutenant governor as a Democrat earlier this year.