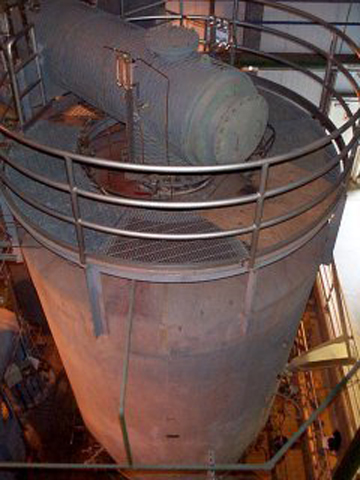 Juneau's poop is getting expensive.
Bidding closed last week on a 5-year contract for municipal sewage sludge disposal with only one viable bid.
Bicknell Inc., a Juneau home building and paving company, has proposed a cost of about $1.6 million per year.
That's roughly 40 percent more than the city pays for disposal between in-house costs and under the contract that expires at the end of the year with Waste Management. Homeowners and businesses bear that cost, among others, through wastewater utility fees, which have been about $64 a month for most addresses since July 2011. A city-commissioned study to inform potential rate changes is due in May.
The new contract may be the long-term solution that Juneau officials have sought for years. Or it may be the latest stopgap since the city's sludge incinerator went offline in 2010.
The sludge is a form of treated sewage, also known as biosolids. It's the product of Juneau's wastewater treatment facilities.
Bicknell's contract award will come before the Juneau Assembly on Monday. If approved, Bicknell may still have to wade through local zoning and permitting issues before the operation gets the green light.
Public Works Director Kirk Duncan declined to comment on the pending contract. And Bicknell owner and president, Spike Bicknell, declined to comment until a contract is in place.
However, his bidding documents offer clues about his plan. It is clear Bicknell plans to dispose of the sludge locally, but not specifically how or where.
Waste Management's Lemon Creek landfill is the only site permitted for sewage sludge disposal, according to the state Department of Environmental Conservation. That suggests Bicknell plans to incinerate the sludge itself, or do additional treatment so it can be recycled as fertilizer or in other beneficial uses; those are the only alternatives to landfill disposal under the Environmental Protection Agency's rules.
Price differences in the transport costs of moving the sludge to the undisclosed disposal site offer another clue about its location. Bicknell's bidding documents quote the cost of one round-trip from the Mendenhall Valley treatment plant at half that of a round-trip from the Juneau-Douglas plant; suggesting the site is closer to the valley than downtown.
Waste Management also bid on the new contract, but was undercut by about $90,000. Its bid required the city treat the sludge to the EPA's minimum standard for recycling. That caveat invalidated the bid, according to the city purchasing office.
Public Works Director Kirk Duncan says managing sewage sludge has been a longstanding local issue common in many communities.
"It's interesting to note that back in 1985, the two priorities of the Assembly were biosolids and landfill," Duncan said. "And we're still sort of in that situation, so. Communities just struggle with what they do with biosolids."
(Full disclosure: Duncan is a member of the KTOO Board of Directors.)
The contract has a 5-year renewal option.
How we got here
In late 2010, the city's 20-year-old sewage sludge incinerator at the Juneau-Douglas Treatment Plant off Thane Road went offline. City officials initially sought repairs and a replacement, but ultimately decided replacing it was too expensive; the capital cost was estimated in the tens of millions, plus high operating and maintenance costs.
Every month, Juneau produced hundreds of tons of sludge that used to be burnt into vapors and ash.
The city bought time by signing a short-term contract with Waste Management to take the sludge. At first, Waste Management put all of the sludge in its Lemon Creek landfill. It's got a strong odor, unlike more thoroughly treated, fertilizer-quality sludge.
Eric Vance, Waste Management's local manager, said he curbed the odor by mixing sludge with garbage and burying it. But eventually, he ran out of places to put it.
To avoid violating nuisance laws, Waste Management began shipping some sludge in the summer of 2011 to a bigger landfill it operates in Arlington, Oregon. As odor-fighting capacity at Lemon Creek fell, the ratio shipped south rose. And so did costs. The per-ton cost of disposal in Oregon was regularly 30 percent or more than the local rate.
This year, almost all of the sludge has been shipped out of town.
Shipping had other unintended costs, too. Odor and sanitation problems with the sludge pending and during shipping led the city to spend $101,000 in 2012 on five special containers specifically for transporting biosolids.
Duncan said those containers were just an experiment. Shipping all of Juneau's sludge requires upward of 40 containers in constant rotation.
Meanwhile, a $32,000 study released in April identified several disposal alternatives.
Oct. 22, 2013, Correction: An earlier version of this story understated current sludge disposal costs and overstated the cost increase under Bicknell's proposal. Disposal costs would not double, but increase by about 40 percent.