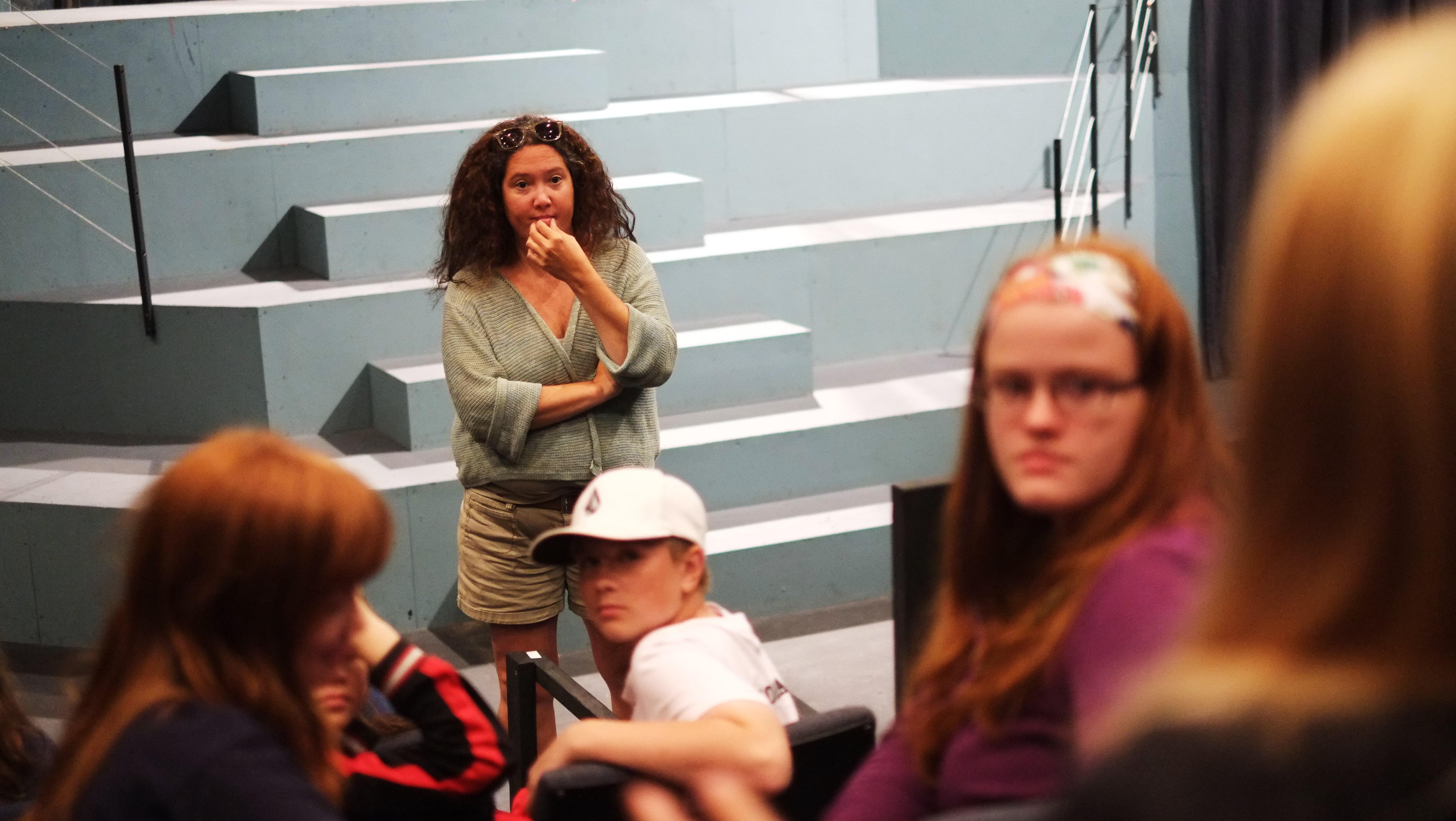 Perseverance Theatre's STAR Program is hosting the summer's final performances. Plays include Shakespeare's King Lear, the British comedy Cinderella, and a new production of Guys and Dolls. The summer tradition has been going on since approximately 1982.
On a sunny Juneau day, 50 kids sit in the audience at Perseverance Theatre. A prop has gone missing and Program Coordinator Shona Strauser is at the front of the stage seeking information.
So that means someone was playing with the swords. From now on, without a doubt they will get locked up. Or else I will sword you. -Strauser
The students are part of the Summer Theatre Arts Rendezvous Program and they've been working for five weeks to produce their plays. The group is comprised of ten to 18-year-olds, some with no previous acting experience. During daily exercises the actors practice pronunciation, projection and movement – led by Strauser. Strauser is the Perseverance Director of Education and has been involved with the program for a decade.
So a lot of theatre camps focus on workshops or just presenting what they've learned but this one is in full production mode. This program's pretty awesome because we've got shows running in reps, so one night you could see King Lear, one night you see Cinderella, and one night you see Guys and Dolls. -Strauser
The students perform on the theatre's main stage, with a set and costumes created by the same technical designers used for Perseverance Theatre's regular season.
These are all professional people working on children's theatre and making a huge commitment to young people. -Strauser
Director of King Lear, Donnie Gott, joined the program last year.
 I asked Shona if I could be part of the program because I really wanted to torture some children with Shakespeare.This year she asked me what I wanted to do and I said 'is King Lear a little crazy' and she said yes, so I said 'let's do it.' – Gott

STAR actors Chris Talley, 16, and Rebecca Hassler,14, pose onstage in their costumes as Edmund and Goneril at Perseverance on August 7th. Photo by Annie Bartholomew/KTOO
Chris Talley,16, and Rebecca Hassler, 14, play the villains of the production. Hassler is a both a seasoned veteran of  STAR, but Talley says his mom forced him to be part of the program.
 I was kind of scared because I had never played a bad guy before. It was nerve-racking to figure out I was going to play someone evil. -Chris Talley
Both are planning to try out for their high school productions at Thunder Mountain and Juneau-Douglas High Schools.
 I'm going to audition for all the plays at my high school. And I want to come back and do more Shakespeare next year, because I love Shakespeare. -Rebecca Hassler
See Cinderella on Friday, King Lear and Guys and Dolls Jr. on Saturday at Perseverance Theatre.  Tickets at the JACC, Hearthside Books and online at  perseverancetheatre.org