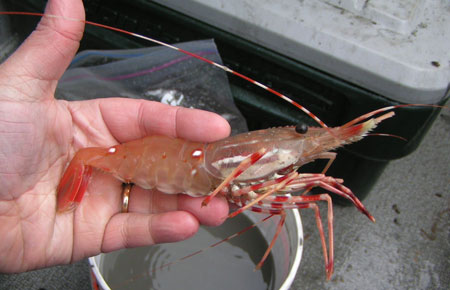 Sport and personal use shrimp fisheries in the Juneau area will be closed starting Monday. The commercial shrimp fishery, which opens in October, will also be closed.
Closure applies to section 11-A, which includes Lynn Canal and Stephen's Passage from Little Island Light to Point Bishop and Point Arden. This is the first time the area has been closed to shrimp fishing.
Dave Harris is area management biologist for commercial fisheries. He says the Department of Fish and Game has documented a decreasing catch-per-unit effort indicating that serial depletion of shrimp is occurring.
"That's where fishing in one area depletes the stock and then the focus moves to another area and it kind of depletes that stock and then it can move and so on and so the net result is a major impact on an area."
Creel census data from 2003 to 2007 on shrimp catches in the area show personal use and sport harvest was equal to commercial harvest.
Commercial shrimp fishing will be closed for three years, which Harris says is a good portion of the shrimps' life cycle, to give the stock a chance to rebound. After three years, the Department hopes to have a sustainable level and offer limited openings. Personal use and sport fishing will be closed until further notice.