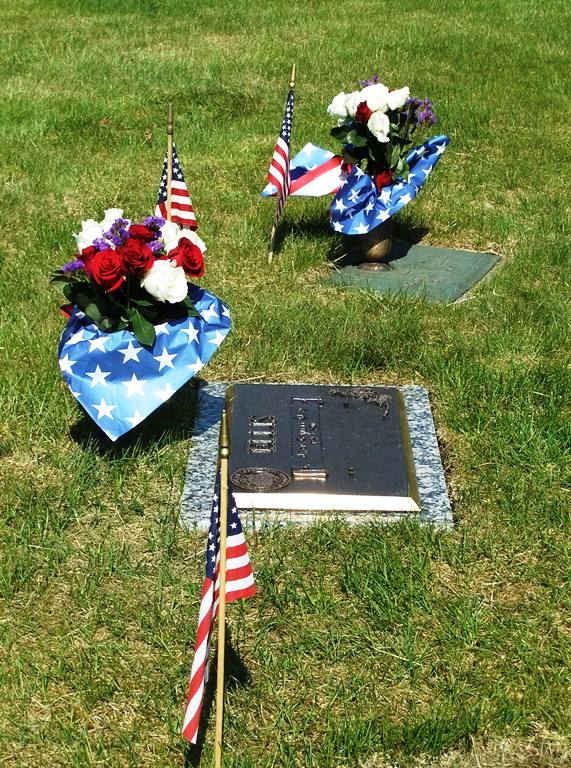 Small American flags and flowers decorate Juneau grave sites as families and friends observe Memorial Day.
Monday's warm, sunny weather brought out many more people than usual to Alaska Memorial Park Cemetery in the Mendenhall Valley.  The annual observance is hosted by the American Legion as a reminder that Memorial Day is more than a federal holiday; it's an opportunity to remember America's fallen veterans. Retired Coast Guard Captain Carl Uchytil called it a "duty."
Uchytil, now Juneau Port Director, noted the history of the day that began in the 1860s when families would decorate the graves of soldiers who had died in War Between the States.
Three years after the end of the Civil War, Major General John Logan coordinated the first large event at Arlington National Cemetery.
"On May 5th, 1868, the head of an organization of Union veterans, the Grand Army of the Republic, established Decoration Day as a time for the nation to decorate the graves of the war dead with flowers. Major General John Logan declared Decoration Day to be observed on May 30th.  It is believed he chose this date because flowers would be in bloom throughout the country," Uchytil told those gathered at Alaska Memorial Park. 
Prior to the Arlington ceremony, springtime tributes to soldiers who had died in the Civil War had been held in many places across the country.  Now at least 25 U.S. communities in both the North and South claim to be the birthplace of Decoration Day.
In 1966, Congress declared Waterloo, New York as the official birthplace of that day, now called Memorial Day.  The first observance was held in Waterloo in 1866.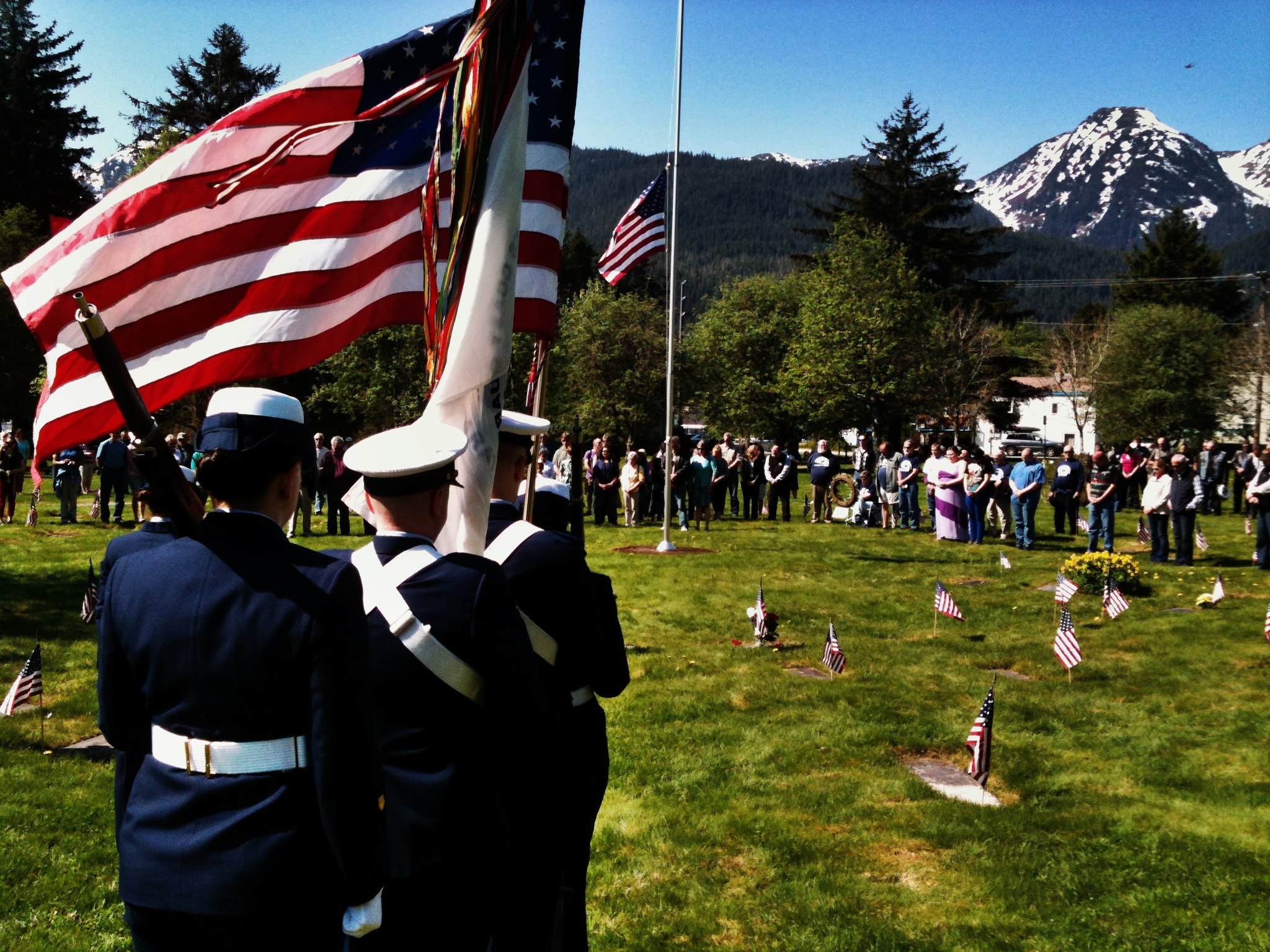 Two Memorial Day services are held annually in Alaska's Capital.  Veterans of Foreign Wars Taku Post 5559 hosted this year's ceremony at Evergreen Cemetery downtown and it included Mayor Merrill Sanford, a U.S. Marine Corps veteran, as the keynote speaker.
Today is a wonderful day to be here and I'm proud to be here as a veteran. And I'm proud of each and every one of you who are veterans. We're here to give thanks to people who have lost their lives in our country's battles, some of our own right here in Juneau. I was lucky enough to go to school with Donald and Charles back in the sixties."
Sanford was referring to Donald Sperl and Charles Gamble. Jr. who were killed in Vietnam and are laid to rest just a few steps from where he was speaking. He read an essay and set of poems about the sacrifices of soldiers and veterans.
Various local groups including the Veterans of Foreign Wars, Elks, Juneau Veterans for Peace, and Harley Owners Group all laid wreaths around the base of the flagpole at Evergeen Cemetary.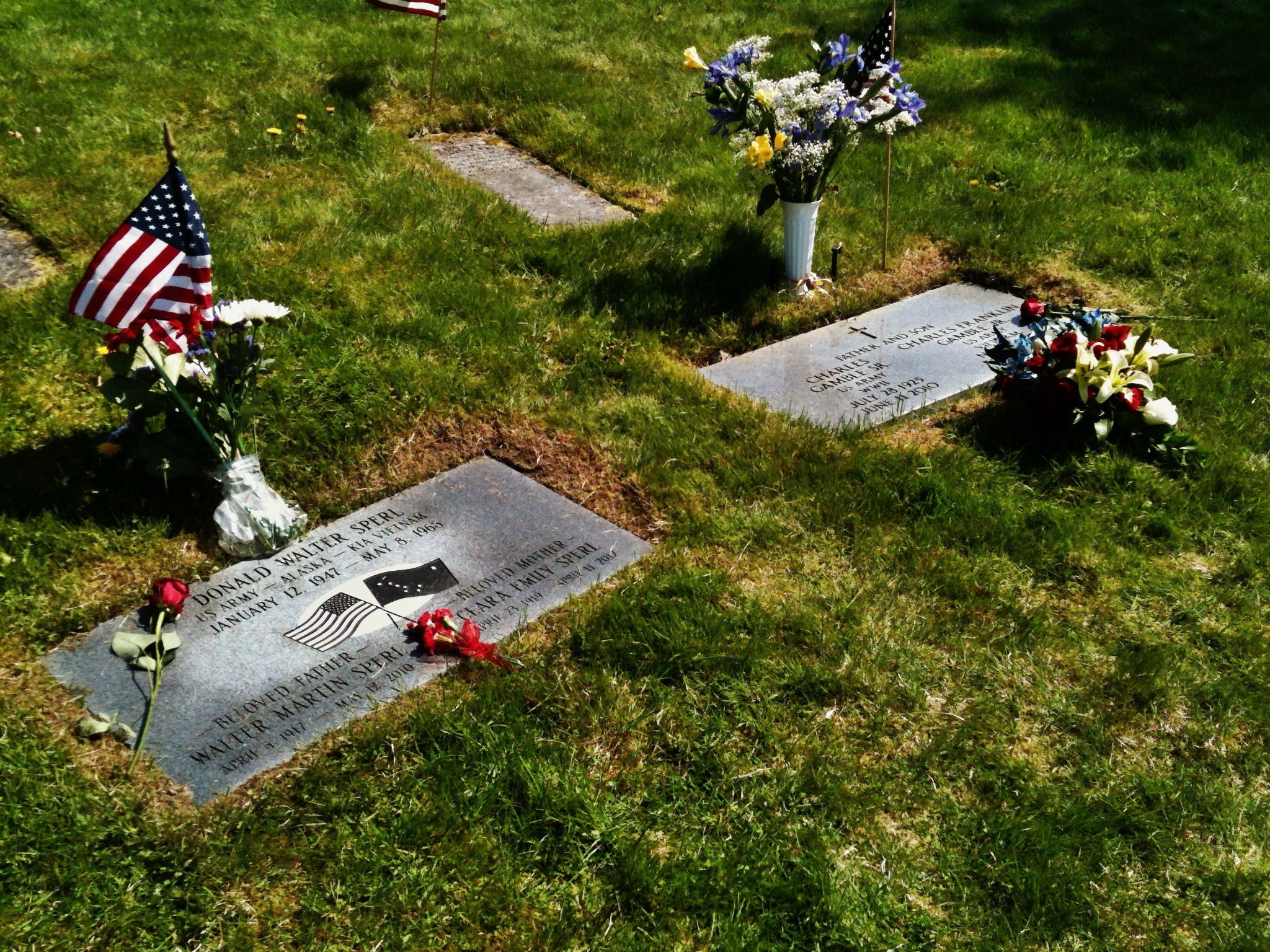 Post vice chaplain Kirk Thorsteinson read the opening prayer and closing benediction, a Coast Guard color guard presented the colors, and Juneau-Douglas High School student Adrienne Sypeck played taps.
Small American flags were placed at the headstone of each service member who was buried at Evergeen Cemetery. They included Juneau veterans who served during the Spanish-American War.