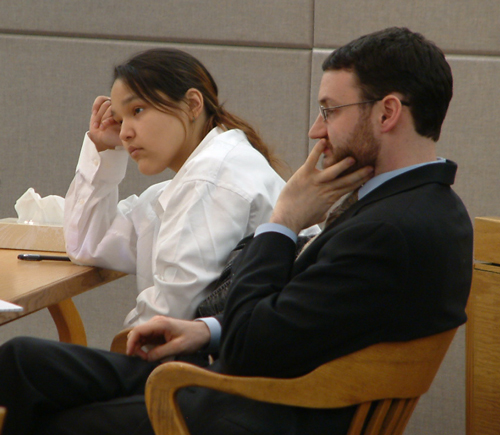 A Juneau jury on Monday found 19-year-old Ashley Johnston guilty of criminal mischief and criminal trespass, but not guilty of arson in connection with vandalizing Adair-Kennedy Memorial Park last summer.
The seven men and five women on the panel deliberated for an hour on Friday afternoon and most of the day on Monday, or eight hours total, before the returning with the verdict.
Johnston, Ryan Martin and Dillon West allegedly climbed the fence to gain access to the turf field, where they broke into the announcer's booth above the bleachers, discharged a fire extinguisher, then descended to the field and started a fire.
Johnston's trial which started last week featured a playback of an interview that she had with investigators about a week after the fire. Johnston initially said that she did not remember the incident, but then provided apparent details of the crime to investigators. Video surveillance appeared to show all three defendants approaching the concession stand and hopping the fence to access the field, but none of the footage shows any of the three actually starting the fire that consumed at least one pallet of adhesive and destroyed an infill spreader that is towed behind a small tractor.
The June 19th incident caused as much as $30,000 damage to those supplies and equipment.
Johnston's sentencing has been set for April 8th.
West and Martin are expected to stand trial on April 1st on charges related to the vandalism.