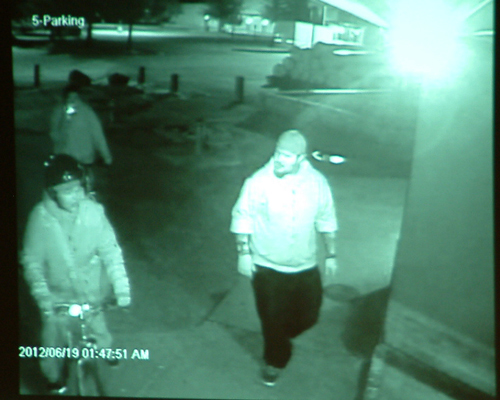 Thursday's session of an ongoing arson trial featured a recorded audio interview between investigators and a suspect in last June's arson at Adair-Kennedy Memorial Park, and the showing of security camera footage of the alleged arsonists.
Ashley R. Johnston, 19, appeared for trial in Juneau Superior court Thursday wearing the same white shirt as Wednesday, but her hair had either been pulled together tighter or trimmed substantially overnight so as to not reveal much of the previously-bleached ponytail.
A witness on Wednesday testified that he didn't know if a suspect leaving the fire scene was Johnston. He could only say that the suspect was on a bicycle and appeared to have blond frizzy hair.
Detective Krag Campbell was the lead investigator in the case. Along with Sargent Paul Hatch, they caught up to Johnston at Miners Mercantile building about a week after the arson on June 19, 2012. During much of the hour-long interview, Campbell and Hatch tried to elicit a response or reaction by claiming that they had more information about Johnston's involvement in the fire. But she claimed she couldn't remember being at the park or who she was with.
"This investigation clearly shows that you're the one that set that fire," Hatch said in recording played back for jurors on Thursday.
"Yeah, like I said, I'm not denying it or saying about it because I didn't remember what happened that night," Johnston responded. "I don't remember talking about the fire."
"I don't recall, but the evidence clearly shows that I did it," Johnston also said during the recorded interview.
"So you're saying you, like you're the one that started the fire?," asks Hatch.
"Yeah, you guys say that you got evidence that says that I did it," answers Johnston.
At first, Johnston said she did not remember seeing flames because she blacked out. But she remembered the smell of burning rubber. She also thought Dillon West liked watching fire, and Ryan Martin poured a flammable liquid to accelerate the dwindling fire and light more spots before telling her to run.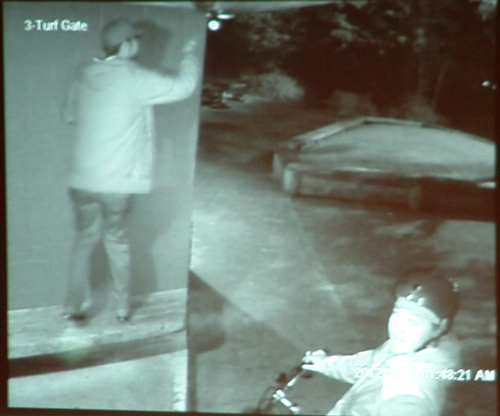 She told Campbell and Hatch that there was a stain left on the pink strap of her bag or backpack. The bag was eventually taken by officers.
Johnston is standing trial this week on felony arson and criminal mischief charges, and a misdemeanor criminal trespass charge for the June 19th incident. Along with Martin, West, and another youth who quickly departed and was not charged with a crime, Johnston went to the Adair-Kennedy park after 1:30 a.m.
Martin or West then allegedly moved or ripped out security cameras at the concession stand before they climbed the fence that encircled the football and soccer field at the park. The turf was being replaced then.
As many as ninety drums of adhesive on two pallets (Recent testimony has been unclear on the exact amount of adhesive stored on site), seaming tape, a yard tractor and a trailer used to spread out the rubber in-fill on top of the turf were positioned inside the fenced area. Martin, West, and Johnston allegedly went up to the upper announcer's booth in the stands by climbing around a fence and entered through the booth window that faces the field.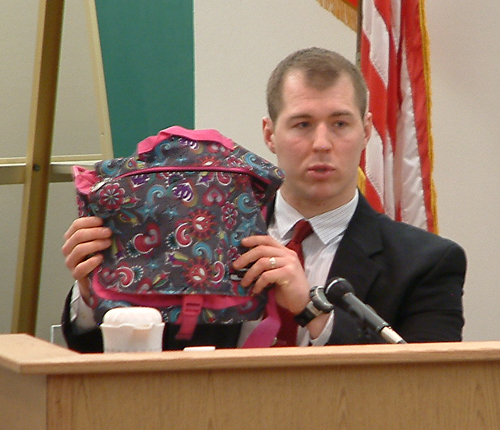 A fire extinquisher was discharged and footprints that appeared to match Martin and West's shoes were left as the trio allegedly went back down to the field and started the fire among the flammable adhesive.
Campbell also showed video footage from several cameras between 1:45 and 3:55 that morning that appeared to show Johnston at the scene, Martin adjusting a couple cameras and disabling one, all three entering the fenced turf area, Johnston allegedly approaching the announcer's booth, then all three apparently exiting the field by climbing on top a bear-proof garbage can inside the fence. But none of the footage showed any of the three actually starting the fire. None of the cameras were aimed toward the turf supplies or equipment.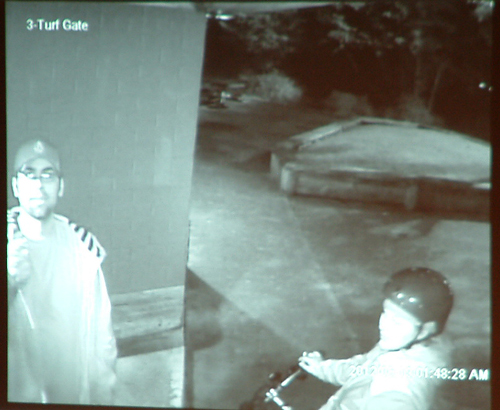 Other testimony yesterday came from CBJ Parks and Landscape Superintendent George Schaaf who described retrieving the footage of the security cameras and a time-lapse camera aimed at the field.
Daniel Zabel of the Georgia company now called Shaw Sports Turf described tractor repairs, arranging for expedited shipping of a new spreader and adhesive, and workers cooling their heels for as much as ten days in Juneau – delaying the project and costing an additional $30,000.
Johnston's attorney has filed a motion to reconsider the judge's decision about questioning Campbell about potential bias. Martin is the son of a long-time Juneau police officer and public defender Timothy Ayer believes his client was treated unfairly compared to Martin.
Martin and West are expected to stand trial April 1st on charges related to the vandalism at the park.