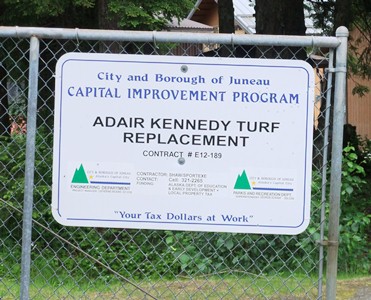 Fire damage to specialized equipment used to lay new turf at Juneau's Adair Kennedy Memorial Field has been estimated at $20,000.
Tuesday's arson fire destroyed a Turfco hopper used to spread crumb rubber on the synthetic turf. The tractor that pulls it was heavily damaged, while seam tape and adhesive for the project melted.
The equipment and materials belong to Shaw Sportexe, on contract to the City and Borough to install the synthetic turf.
Fire Marshal Dan Jager says additional costs must still be considered:
"Lost labor time and whatever delays this causes with the project as well as any groups might be impacted by it," Jager says. "You know users, high schoolers, practice and stuff like that. Probably not a monetary dollar amount you can put to that but it's definitely going to be time and it's going to have some sort of an impact."
Juneau police and fire are still investigating the vandalism, and Jager says it's not clear what was used to start the fire.
Shaw Sportexe has ordered new adhesive and seaming tape and is trying to locate another spreader and small tractor.
Meanwhile, CBJ project manager Catherine Wilkens says the company still hopes to complete the synthetic turf project by July 15.