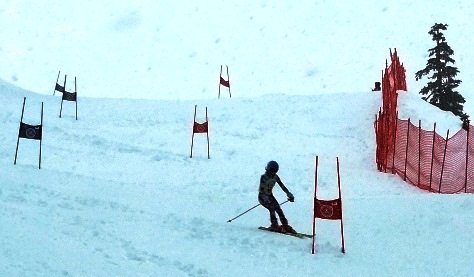 Nearly 80 Juneau youth – ages 6 to 18 — are in race programs this season at Eaglecrest Ski Area.
The youngest group, known as the Mighty Mites, is also the largest group, with more than 40 kids training each weekend.  The key is keeping the young skiers interested in racing over the next few years.
This past weekend Eaglecrest hosted one of two statewide qualifying races for older youth, with 40 skiers from Anchorage, Fairbanks and Juneau.
As Rosemarie Alexander reports, it takes a community to put on a ski race.
Forerunner Sophia Wahto radioed some valuable information to the racers waiting at the top of the course.
"Way soft so that coming into the throat you've got to be really, really prepared and up, and don't dig your edges in too deep because you're going to get sucked down."

Home on break from college,  Sophia Wahto has skied the trail known as Hilary's  hundreds of times in training and races.  Her dad, Doug Wahto, is the technical director of the race.  He stands at the throat of the course and lets officials at the top know when each racer has passed.
His daughters were about six when they started racing in Mighty Mites.  They're adults now, but Wahto still works with the Juneau ski team.
"Thirty years here. Actually I still have my original USSA card from 1964, Juneau High School then University of Alaska in Fairbanks.  I skied for Jim Mahaffey up there for a number of years, and have been involved in racing ever since."  
Ski racing is usually a family affair.
"Typically the kids that are racing here, their parents were involved in skiing and their parents were involved in skiing.
Parents lined the course or worked in the race shack during the three-day race series for youth ages 11 to 16, sponsored by Juneau's NAPA Auto Parts store.
Some of the parents recently became certified race officials with the United States Ski and Snowboard Association, taking classes and passing tests.  There are lots of jobs –technical directors, race and course chiefs, referees, timing officials – and all to make sure the Alaska racers are ranked evenly with their USSA peers across the country.
Juneau Ski Club head coach Dan Ord says it would be impossible to pull off even a local race without the parent volunteers.
"The coaching staff – we're two junior coaches and three devo (development team) coaches and you know we don't do this. The parents and volunteers do it," Ord says. " And the mountain, too. The mountain manager,  we talk every day, and the groomers are in our court.  You know, we're gettin' it done."
Challenging weather
Juneau's blustery wet weekend weather posed big challenges for the young racers.
The first race was Friday – a giant slalom.  Fourteen-year-old Jeanne Lin Muller of Juneau says her first run was "OK."
"It started off kind of slow, but it was really like fast and rhythmical."
 And she knew she needed to get more forward on her skis in the second run.
"And rolling my ankles and absorbing more," Muller says. 
 Fifteen-year-old Riley Howard of the Alyeska Ski Club calls giant slalom his thing.
"I just like going fast.  I don't know (why), I just love it."
 Even on a day when weather changed from heavy wet snow at the top of the course then to sleet then to a downpour at the finish.
"It was tough conditions. You had to be on that downhill ski, couldn't be late (or) you'd get in that soft snow and lose all your speed," Riley says.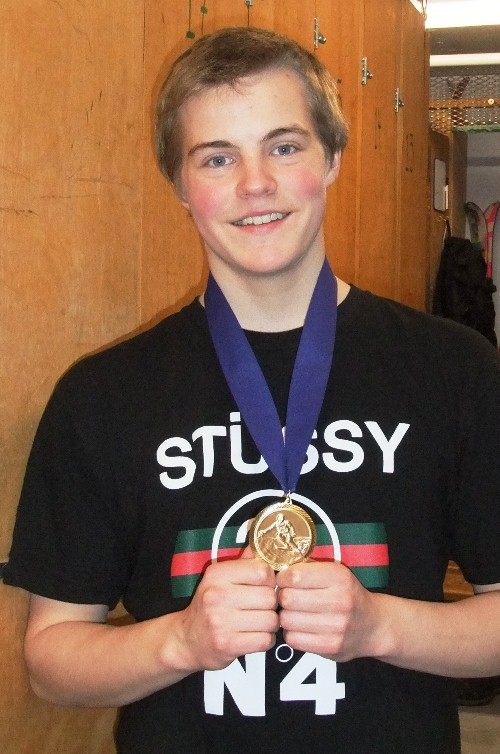 Sixteen-year-old Joe Greenough of Juneau is also a GS fan, but he wasn't impressed with his first run.
"I got late a lot, back seat too much.  Couldn't hold an edge, skied out way too much. " 
By the end of the weekend, Greenough and Riley took home medals for their overall performance.
Greenough was happy to show off his gold medal for finishing all three races and earning the highest number of World Cup points for the series.
"It was a combination of speed, mental determination. Mostly I had fun."
With an eye on Western Region Championships in March, Greenough will compete next week in the second statewide qualifier at Alyeska Ski Resort in Girdwood.
"And there'll be a lot stiffer competition. A lot more intense.  It'll be a great time."
Meanwhile, Eaglecrest hosts another state championship next month for racers under the age of 14; Coach Ord is planning.
"So all our youth ski league, Mighty Mite, Devo programs across the state send down their kids.  I hope we get a hundred kids here," Ord says.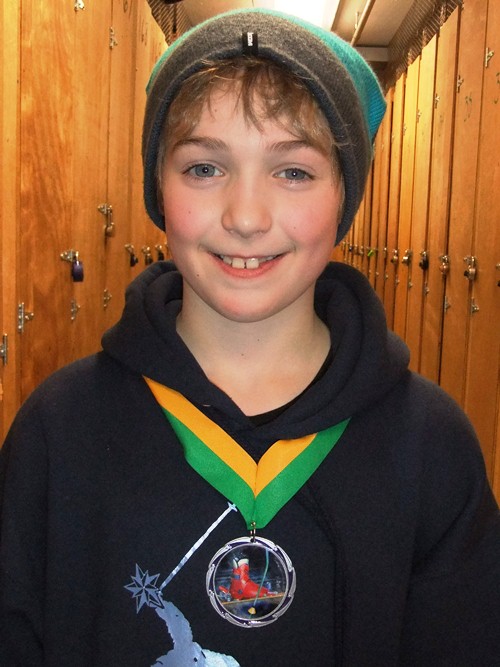 Eleven-year-old Tyler Weldon, of Juneau, expects to compete, with new confidence from the races just finished.  He was sporting a medal after Sunday's award's ceremony.
"I DQ'd in my slalom but I got second in the GS and the Kombi," he says.
And what did he learn from the weekend races?
"To just go for it and have fun."