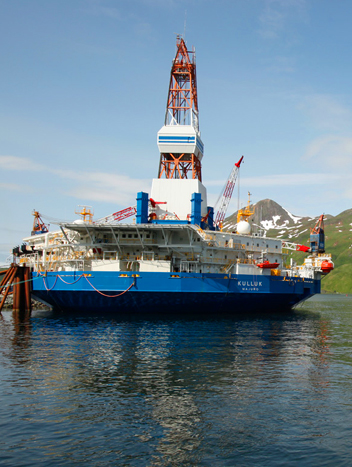 Problems continue for Shell Oil's mobile drilling rigs in Alaska waters. This time it's the Kulluk, which left Dutch Harbor last Friday.
The tug towing the drilling rig is having engine trouble about 50 miles south of Kodiak Island.
Coast Guard Spokesman David Mosley in Anchorage says the tug Aiviq began experiencing engine problems late last night. Mosley says it has enough power to maintain its current position, about 48 hours from landfall.
The Kodiak-based cutter Alex Haley arrived on scene early this morning and is standing by to assist if the situation deteriorates. Mosley says two tugs – the Guardsman and the Nanuk – are on their way from Seward, and should arrive by early afternoon.
Current weather on scene includes 40 mile per hour winds and 20 foot seas.
Engine troubles haven't been the only issue on this voyage. Earlier Thursday the tow line between the Aiviq and Kulluk snapped in rough seas, but Mosley says the crew was able to re-establish the tow.
The other drill rig leased by Shell this year, the Noble Discoverer, was held by the Coast Guard in Seward until last week because of safety and pollution control issues. It was released on December 19th, but remains in Seward.