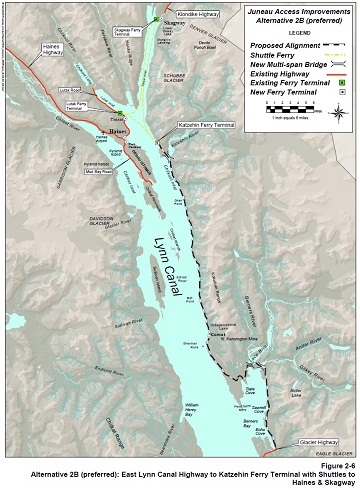 Gov. Sean Parnell's proposed fiscal year 2014 operating budget sets aside $10 million for the Juneau Access Road, but the Department of Transportation doesn't yet know how it will spend the money.
Spokesman Jeremy Woodrow says DOT is waiting for the Federal Highway Administration to decide which alternative route to select.
"The $10 million this year is going to go into either beginning construction or designing the next leg of Juneau Access,"  Woodrow says.
The federal decision hinges on an environmental impact statement due in 2014. After conservation groups sued DOT, a federal court ruled the department explore a "no build" option that strengthens the existing ferry system, hence the supplemental EIS.
Proposals vary between a western route from the Chilkat Peninsula, to an eastern route that would stop at the Katzehin River, where motorists would get on a ferry to Haines or Skagway.  That's the state's preferred alternative.  Woodrow says DOT still needs to design the portion of the route between Sweeney Creek and Katzehin.
Total cost of the project is estimated at $520 million.  It's expected the state will pick up 60 percent and the federal government 40 percent of project costs. Beginning in 2015, the governor's proposed budget shows $50 million for road construction for each fiscal year through 2019.
Daven Hafey is a community organizer at the Southeast Alaska Conservation Council, which has opposed road extension plans for decades.
"This is not something that SEACC plans on backing away from. We will continue to advocate for continued safe reliable transportation up and down Lynn Canal," he says.
Hafey says the governor's proposed $10 million for the project comes too soon, since the environmental impact statement is still under review, and it's unclear what route the Federal Highway Administration will select.
"So it seems premature that capital money would be invested in a hypothetical project. At a time when the Alaska Class ferry design has shifted dramatically the last couple of weeks, we also find it odd that those dollars aren't being invested in tangible projects that are being constructed to help transportation needs in the region," Hafey says.
 Gov.  Parnell earlier this month announced he was scrapping plans to build the 350-foot Alaska Class ferry in favor of smaller shuttle boats.
DOT's Woodrow says the draft for the Juneau Access supplemental EIS will be open to public comment by the end of next summer. Construction would begin in summer 2014 at the earliest.
The governor's budget generally goes through significant changes in the Alaska Legislature, which convenes in mid-January.