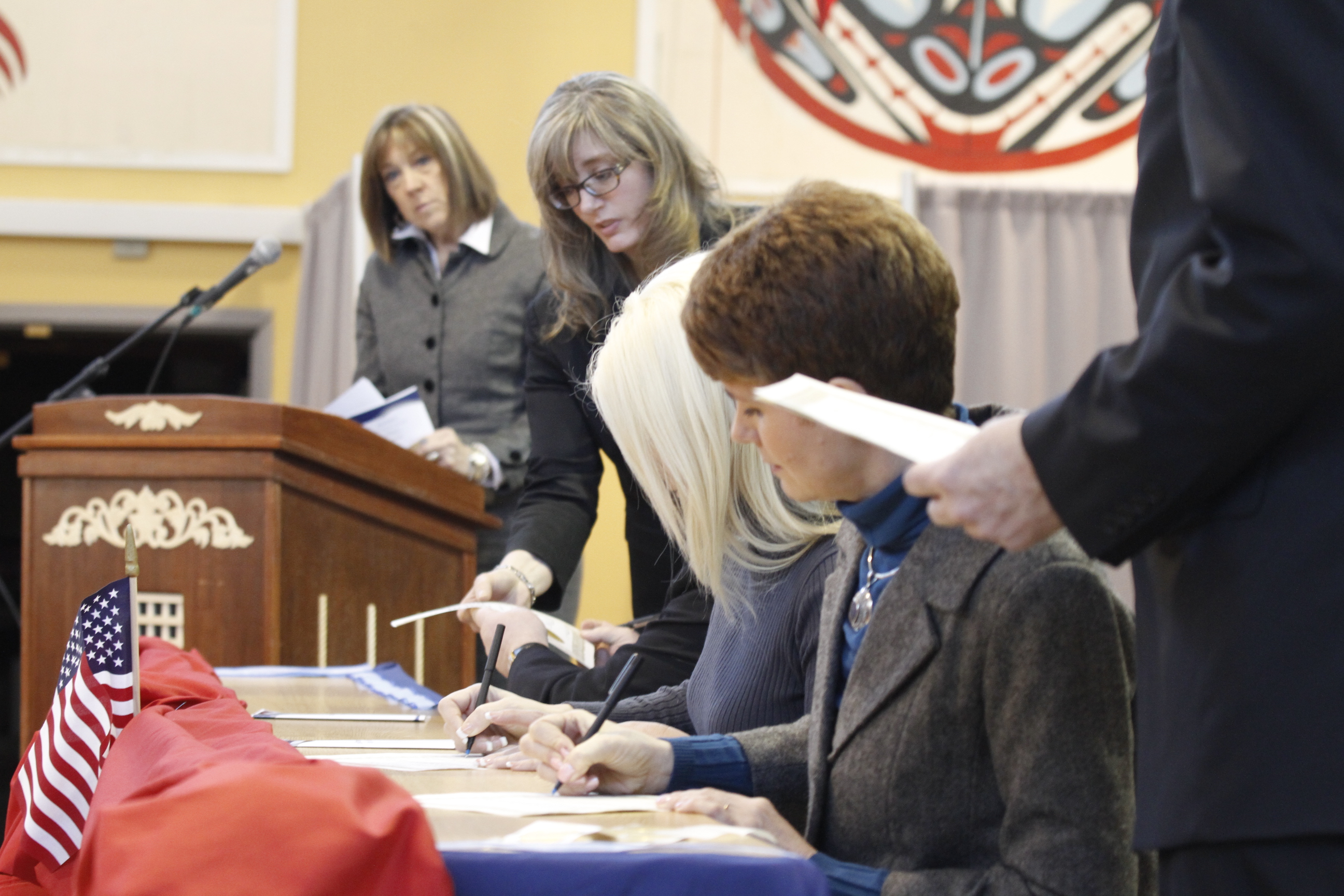 Alaska joined with the rest of the nation yesterday (Monday) to cast its Electoral College ballots for U.S. President and Vice President.
The state has three electoral votes.
In a ceremony in Juneau, Kristie Babcock, of Kenai, Kathleen Miller, of Fairbanks, and Christopher Nelson, of Anchorage, cast and signed their ballots for the Republican nominees. 
"Their parties nominees, Governor Mitt Romney and Congressman Paul Ryan, received the most votes in Alaska for President and Vice President on November 6," said Gail Fenumiai, Director of the state Division of Elections.
In Alaska, Romney and Ryan received more than 54 percent of the popular vote and President Barack Obama and Vice President Joe Biden got about 41 percent; compared to the national popular vote, where the Democratic president got almost 51 percent of the popular vote to the Republican's 48 percent.
Nationwide, Romney and Ryan received 206 Electoral College votes while Obama and Biden got 332.
Alaska's Division of Elections is under the supervision of Lt. Gov.  Mead Treadwell.  He told the small group at the formal ceremony that the Electoral College guarantees small states like Alaska have more impact on the presidential election.
"With Alaska's 3 electoral votes out of a total of 538 nationally, Alaskans have a point 5 percent impact on the election.  It doesn't sound like much, but if the election is calculated by popular vote, Alaskans have about 300,000 eligible voters out of 200 million eligible voters nationally, or about a point one-five percent impact," Treadwell said. "So the Electoral College more than triples our collective impact on elections."
The electors are selected by their political party.  Kristie Babcock applied last spring at the Alaska Republican Party convention.  She called it an honor to participate in the Electoral College process, which is important to Alaska.
"It is a way to give every state its say. And for Alaska the Electoral College ensures that its opinion, its vote, has a little more weight than it would if it were just lost to larger states," Babcock said. 

The Electoral College votes were sealed and will be sent to the U.S. Senate President, who is Vice President Biden.  Next month he will read the results of all 50 states and District of Columbia electoral votes to both houses of Congress.