Preliminary figures indicate that 2,830 students dropped out of Alaska schools in the previous academic year.  Forty-one percent were Alaska Native.  Today we continue our series on dropouts with a look at why students choose to leave school.
A variety of causes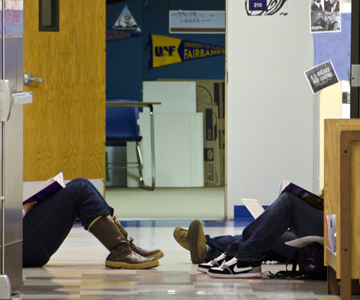 Ninety-three youth dropped out of Juneau schools in the 2011-2012 school year, some as early as the 7th grade. Of the 379 Juneau freshman enrolled this year, about a third will not graduate, according to the Juneau School District.
"My sense is there is a history of failure on some level," Bernie Sorenson says.
Sorenson coordinates the Juneau School District's Credit Achievement Recovery and Employability Skills program, or CARES, which helps students who are on the verge of dropping out.
"For some the basic is: make sure we have enough money to put food on the table, or find a place to sleep the next night," Sorenson says.
In Juneau alone there were as many as 93 children under 18 who were homeless in January 2012, according to a survey by Project Homeless Connect; but that number may represent only a portion of the total number of homeless youth in Juneau. Schools generally don't account for many of these external factors.
Nancy Seamount is the School Liaison for the CARES program.
"I had a kid today that I said okay so—he's a non-attender but he came today—so I said what incentive would it take for you to get to school?  And he looked at me and said 'one dollar.'  I said what? He said 'one dollar a day.' I said so what would you use that one dollar for?  'To ride the bus.'"
"So the first thing people think of, 'well can't he take the school bus?' They don't understand what's going on in some of our families. There's a lot of chaos going on. He might need to come late. He needs a bus pass," Seamount says.
She says her years as an elementary counselor offered insight to the problems students face.
By the time students were in 5th grade, Seamount observed students dealing with violence at home, sexual abuse, drug and alcohol issues, or divorce.
"What that tells me is that adults are struggling," Seamount says.
Sorenson says students who drop out often do so as a result of lost confidence, even from failing just one class early on.
[one_half][box][quote]I had a kid today that I said okay so—he's a non-attender but he came today—so I said what incentive would it take for you to get to school?
And he looked at me and said one dollar.
I said what?
He said one dollar a day.
I said so what would you use that one dollar for?
'To ride the bus.'"[/quote][/box][/one_half]
"The whole self-esteem thing  kicks in, as a freshman. One course and they're already self-doubting whether they can even graduate on time," Seamount says.
In the 2010-2011 school year, 1,144 Alaska Natives dropped out statewide.
University of Alaska Southeast Assistant Education Professor Alberta Jones has studied what motivates Native students to succeed.
She interviewed more than 200 mostly Native students from middle school to doctoral candidates and examined factors outside the education system as well as teaching methods.
"Children who were resilient and succeeded had some protective factors, according to the research. And that was extended family or schools and community. And the students having school connections with teachers or other adults made a difference too; they had the power of five," Jones says.
That's five adult role-models.
"Some other common threads in the research were having positive values, having good social skills, having a positive identity," Jones says.
Jones also interviewed non-Native students.
The problems are universal. State Education Department statistics indicate 1,635 non-Native students dropped out in the 2010-2011 school year; some could blame teaching methods.
Teachers are a piece of the puzzle
Jones interviewed effective teachers, as reported by students. She says effective teachers push, encourage and tell their students 'don't give up.'
"So just that whole rigor piece of relationships. That effort and energy. Then I saw another aspect of relationships, the personalization piece, which we know about, we hear that a lot. That's the attitude and personality with their students," Jones says.
The students described the teachers as fun and friendly. Particularly striking to Jones are teachers who would do just about anything to get their students to attend class: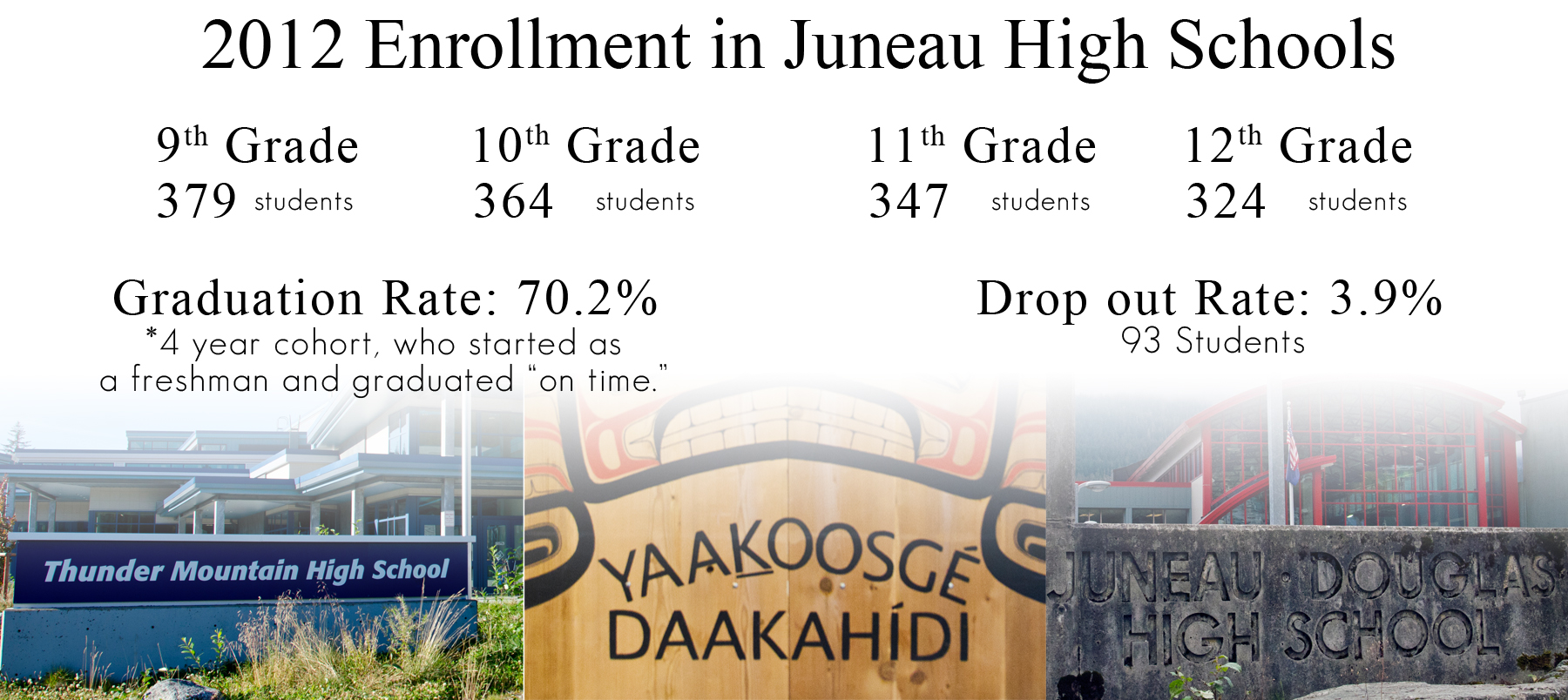 "One teacher said he plays a guitar outside his door at the middle school. Another teacher said he stands outside of his classroom door and talks about anything except the subject he teaches. It's like 'hey Johnny, did you and your cousin get your car fixed this weekend?'"
Dirk Ahrens remembers personal involvement like that from his junior year in high school. He and his high school sweetheart–now wife–Ginny were part of the "Project 2000" program.
"It was a lot more one on one with the students. Did all sorts of stuff just getting us out into the community. And by the end of the year I'd go to every class," Dirk Ahrens says.
But by the time senior year rolled around, neither Ginny nor Dirk felt motivated to stay in school.
"I was stubborn and didn't want to listen to the teacher," Ginny Ahrens says.
Dirk was "living at home, 18 years old, didn't want to be at home with my mother anymore. And so I went and got a full-time job and just started from there."
After high school Ginny and Dirk broke up. Eventually Ginny got her GED and Dirk earned his high school diploma from a university in Washington State, where he moved after high school. Ginny became an army recruiter and Dirk a general manager at Costco and both wound up in Juneau again. They married and have two children.
Ginny says she hopes her children's educators are more mentor than disciplinarian. She expects her kids to graduate from high-school.
Alaska's graduation rate hovers around 70 percent. Increasing the number of graduates is a statewide problem and is not solved by academic solutions alone.
How can the system help?
Tomorrow we look at how the system responds to students at risk of dropping out.
Find out more about the American Graduate Program, find links and hear interviews with Juneau students and educators here.
Part 1 – Statistics offer a grim look into the future of high school dropouts
Part 3 – At risk students find a second chance in alternative programs