Longtime Juneau musician Dale Wygant was honored with a mayoral proclamation last night (Monday) at the Juneau Assembly's regular meeting.
With an otherwise light agenda, the proclamation for Wygant was notable for likely being the last one delivered by outgoing Mayor Bruce Botelho, and for a rousing kazoo rendition of "Beer Barrel Polka" delivered by Wygant's friends and supporters.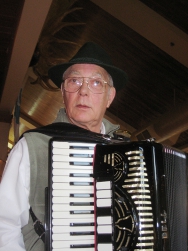 The proclamation names this week "Dale Wygant Week" in the Capital City.
Mayor Botelho noted that Wygant and his accordion appear several times a month at the Juneau Pioneer Home, Wildflower Court, and Mt. View Senior Center, in addition to regular concerts at charity and community events.
Wygant called the honor a "real surprise." He said he enjoys playing for the older audiences, who can remember some of the thousands of tunes he knows by heart.
"They enjoy the kind of music that I play primarily," Wygant said. "The old time things, and the polkas and the schottisches and things like that. I'm not much into Led Zeppelin and the more modern people."
You can catch the Wygant-led Oompah Band this Friday at Southeast Alaska Independent Living's 20th anniversary dinner and auction at Centennial Hall.