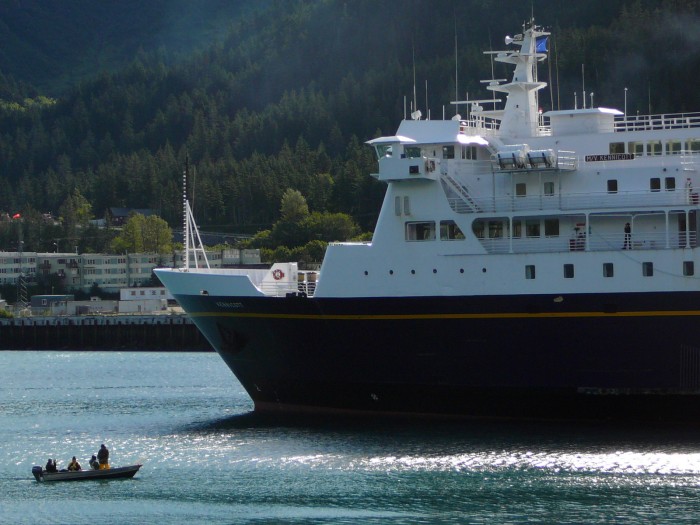 About 500 people are in Anchorage this week for the Alaska Travel Industry Association's convention and trade show.
They'll hear from a variety of industry experts and advocates.
ATIA President Ron Peck says this year's tour season was mixed, with more cruise passengers and fewer people driving the Alaska Highway.
He says the good news is a larger percentage of international tourists.
"We're very encouraged by the fact that Korean Airlines and Japan Airlines both offered charters again this year. But the other great news, because I think folks see market opportunity, is the fact that Iceland Air has announced twice-weekly service starting in 2013," Peck says.
Another airline, Condor, offers direct flights to and from Germany.
The cruise-passenger increase was about 6 percent. Similar growth is projected for next season, bringing the total up to about a million people.
There's bad news as well. Peck says non-resident sport fishing license sales, once a third of a million, have trended downward. That means fewer people are coming to Alaska to fish.
The nearly 25 percent drop, over six years, is tied to stricter halibut catch limits and poor runs.
"Given the fact that fishermen talk, and given the fact that there's still concerns about the overall sustainability of the halibut fishery and concerns that people are seeing in the Kenai and Mat-Su drainages, we as an industry are concerned about what's happening with the fishery in Alaska," Peck says.
The tourism industry convention runs Tuesday through Thursday at Anchorage's Dena'ina Center. ( ATIA convention agenda.)
Peck says in-state marketing is also on the table.
"I think we'll continue to see discussion about funding levels and the level of involvement from the state and the industry in terms of the actual tourism marketing program.
Those attending will also hear updated statistics and attend skill sessions such as Cultural Sensitivity and Social Media Techniques. Speakers include Daniel Halpern of Brand USA, which targets foreign visitors. U.S. Senator Mark Begich will also speak.
About a million and a half tourists come to Alaska during the summer season.
Tour industry data compiled by the state.