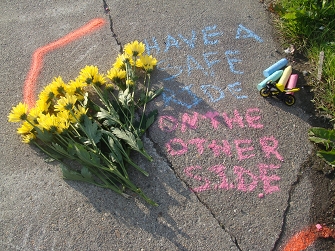 Twenty-seven-year old Juneau resident Larry Brandon Blatnick Jr. was killed Tuesday when his motorcycle struck a vehicle.
The accident happened near 12th Street and Egan Drive. Police say they received multiple 911 calls about the collision at 1:20 p.m. Police then shut down Egan Drive between West 10th Street and Highland Drive. Traffic was rerouted onto Glacier Highway for more than 3 hours.
Capital City Fire and Rescue declared Blatnick dead at the scene. He had been thrown off his 2001 Honda motorcycle.
According to police, Blatnick was driving outbound on Egan Drive at the same time a 2001 Subaru was turning left from Egan inbound onto 12th Street.
A witness told police that the motorcycle slowed down temporarily and then sped up suddenly, striking the front passenger-side fender of the car.
Police say 41-year-old Juneau resident Laura Hosey was driving the car. She was not injured. Police say she displayed no signs of intoxication.
The investigation into the fatality continues.
For a link to our initial coverage of the accident, click here.