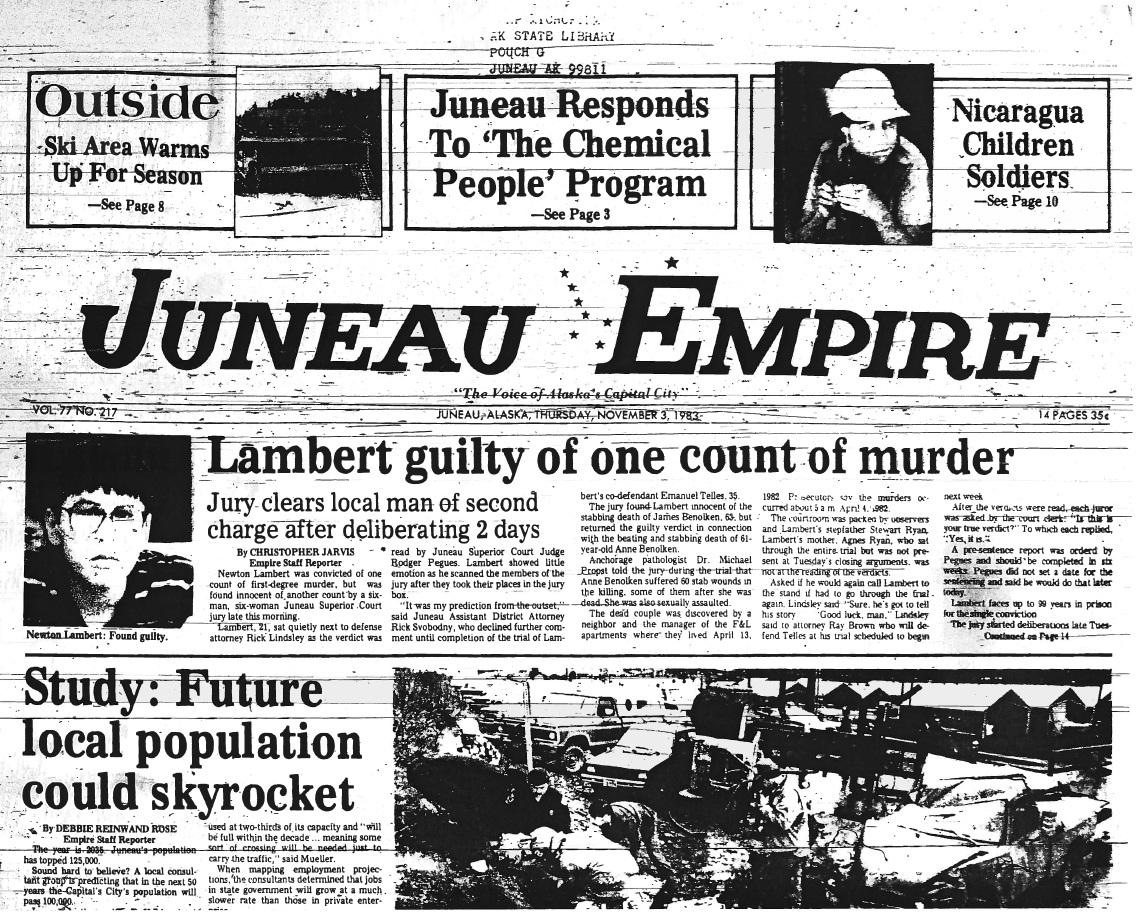 A Ketchikan judge on Friday will preside over the latest hearing in the case of a double homicide in Juneau. It could be the first test of a new Alaska law that allows the examination of DNA evidence after a convicted felon has been sent to prison. The only man convicted in the case still says he's innocent of the crime thirty years after it happened.
Newton Lambert of Juneau was 21 years old when he was accused of sexually assaulting and stabbing James and Anne Benolken. The couple, in their 60's, were found in their apartment at the F & L building on South Franklin Street at least nine days after they were killed in April 1982. Lambert was acquitted of murder for the death of James Benolken, but convicted in Anne's murder and sentenced to 99 years in prison.
Co-defendant Emanuel Telles was acquitted of both charges in a trial that immediately followed Lambert's trial.
Lambert still says he is innocent. Two years ago, he made a last-ditch attempt to get his case reviewed and his conviction overturned based on the testimony of FBI agent Michael Malone. He was found to have used flawed techniques in examining hair fiber evidence.
An analysis published by the Washington Post in April found at least 137 cases around the country which were secretly reviewed years ago by the U.S. Department of Justice for possibly flawed forensic work. Defense attorneys in many of those cases were not notified by the DOJ when those reviews were finished. In Lambert's case, the Washington Post reports that the notification went to his defense attorney who had died.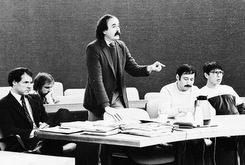 More recently, Lambert has embarked on a new, second attempt to get his conviction overturned. He wants to find and examine thirty year old DNA evidence collected from the Benolken apartment. Lambert's application may be one of the first under a relatively new Alaska law. It requires preservation of evidence from unsolved homicides and sex crimes for at least fifty years, and it sets criteria for who can apply for post-conviction DNA testing. Bill Oberly of the Alaska Innocence Project said their group pushed for the new law from the very start.
"At the time, we were one of four states that did not have any post-conviction DNA testing," said Oberly. "So were kind of bringing up the rear."
Senator Hollis French, chair of the Senate Judiciary Committee, sponsored the version of the bill that was signed into law two years ago. He said they wanted it to do two things: "Catch the guilty and free the innocent."
The current lawmaker and former prosecutor said the law is a real balancing act.
"You've got to maintain an avenue for prisoners to be able to come to court and prove their innocence," said French "But, keep in mind, there are victims on the other side of the equation who want see cases come to an end. They want to see a finality to cases."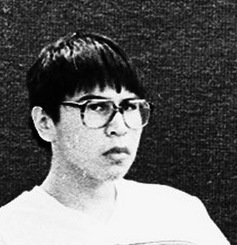 Oberly would like to revisit that concept of finality. The new statute has an application deadline of 2020 for anyone convicted before July 2010. For convictions after July 2010, it's a three-year window to ask for DNA testing.
"I don't think there should ever be sunset requirement on an innocence claim," said Oberly. "If evidence can be found that would establish that a person in prison is innocent, I don't think that there should be a time limit on when that can brought."
Deputy Attorney General Rick Svobodny said that provision was actually a compromise. It's a deadline that's not really a deadline.
"It's presumed that if you do it within three years, you acted fast enough," said Svobodny. "It's presumed that if you waited longer than three years, you didn't act fast enough." In explaining how the law is crafted to eliminate delaying tactics, Svobodny used a hypothetical example of a victim or critical witness who is dying of cancer and may not be available in three months. "They chose to wait six. That's not a fair thing to do." On the other hand, if the state of technology is not yet sufficient to test a particular sample, then a defense attorney could still successfully argue that a longer delay is necessary.
Svobodny is currently head of the state Department of Law's Criminal Division. But thirty years ago he was the same junior prosecutor who tried Lambert and Telles in back-to-back trials.
He said there are at least two other Alaska cases in which defendants have asked to go back and examine potential DNA evidence.
"DNA is all situational and it is best determinative in sex assault cases," said Svobodny. "The fact that you left some DNA here that we can get off my desk a week from now doesn't mean you did the burglary five days from now."
The relatively-new law clarifies what was essentially new legal ground for the Alaska justice system in 1993. William Osborne was convicted of raping an Anchorage-area prostitute. He fought to have evidence tested that could exonerate him. His case went before the Alaska Supreme Court which ruled that the evidence had to be linked to the crime and definitively prove his guilt or innocence. In the end, the U.S. Supreme Court essentially determined Osborne had no constitutional guarantee to DNA testing, especially without trying other state procedures for post-conviction relief. Osborne's apparent admission of guilt before a parole board would essentially bar him from asking for a DNA test under the new statute.
Lambert's public defender Jude Pate declined to comment on the record for this story. The prosecutor assigned to the case, Assistant District Attorney Amy Williams, also declined comment other than to say that it was challenging to find materials in the old case.
Both will appear in Juneau Superior Court on Friday as Pate seeks DNA testing. It's unclear whether Lambert will participate by telephone from prison in Colorado or whether he will be transported to Juneau.
Friday's evidentiary hearing
Pate is expected to argue that any remaining physical evidence will point to other potential suspects and eventually exonerate Lambert for the crime. They include blood and semen taken from James Benolken's shirt and pants at the time of his death. In filings made with the court, Pate wrote that he believes that the evidence came from others that the police disregarded as suspects.
Williams is expected to argue that simply asserting other possible suspects is not enough to justify post-conviction DNA testing. She'll contend that Lambert never proposed a theory at trial that would definitively establish his actual innocence, only that he blacked out during the apparent time of the murders. She also wrote that any evidence taken from James Benolken would not necessarily establish Lambert's innocence in the murder of Anne Benolken.
Ketchikan Superior Court Judge William Carey will preside over the evidentiary hearing in Juneau. He could either issue a ruling from the bench or take arguments under advisement and issue a written opinion later.