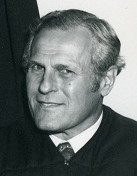 Alaska's Congressional delegation has introduced legislation to rename Juneau's federal courthouse facilities in honor of the late Judge Robert Boochever, who passed away in October at the age of 94.
After moving to Juneau in 1946, Boochever served as an assistant U.S. Attorney, and later became the fourth Chief Justice of the Alaska Supreme Court. In 1980, he became the first Alaskan appointed to the federal Ninth Circuit Court of Appeals.
When he wasn't practicing law, he was involved in several community groups, including the American Red Cross, the Chamber of Commerce, and Juneau Rotary Club.
Legislation to name Juneau's federal courtroom after Boochever, comes as the U.S. Justice Department is considering closing at least 60 federal courthouses nationwide – including Juneau's.