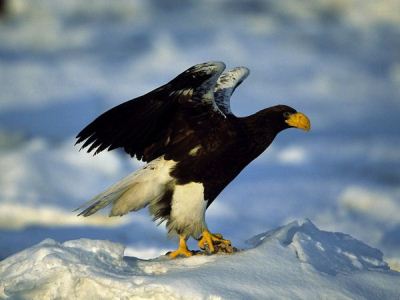 A Steller's Sea Eagle has been seen in downtown Juneau – far afield from its habitat of eastern Russia.
Research wildlife biologist Dave Douglas saw the rare eagle Friday morning when he was looking out the window of his office in the NOAA building on Gastineau Channel.
He says the bird was inflight at about 200 feet, "and it was back dropped against the dark spruces, the dark of the mountain. You know the first thing that catches my eye is the glaring white and dark contrast on its wings."
The bird had bright white on its wings. Douglas says for the first second he was "trying to coerce himself" into thinking it was a guillemot or a white-winged scoter.
"But yet it's huge. It's undisputedly an eagle. So then I try to wrestle for another second or so thinking that a bald eagle has something stuck on its wings, like white garbage bags, or something, (or) it flew through some paint, I don't know, something," he says. "Then it had just perfect form. There was nothing trailing or stuck on this eagle."
He described what he was seeing to a colleague – a professional birder — who confirmed it was the Steller's Sea Eagle. He says he jumped on the Internet and was quickly viewing what he had just seen in flight.
Douglas conducts satellite tracking studies for the U.S. Geological Service's Alaska Science Center. In past jobs, he has spent countless hours identifying birds for the U.S. Forest Service and Fish and Wildlife Service, but he had never seen the rare eagle in the field.
Word of the sighting spread through an online eagle chat forum, confirming a story that a Steller's Sea Eagle was seen up the Taku River about 1989.
Steller's Sea Eagles are most commonly found on the Kamchatka Peninsula, where they breed. In the winter many individuals migrate to Japan, while others move to open water. Annual salmon runs provide much of their diet.
Douglas says they are occasionally seen in the Kodiak area. Click here for more information on the Steller's Sea Eagle.