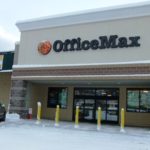 A major national retailer opens a store in Juneau today.
OfficeMax is the second chain store to open in a month at the Nugget Mall, next to Petco.
Its manager is Juneau's Chuck Collins.
A few years ago Collins got out of the retail office supply business. A few months ago, he got a call from OfficeMax.
He'd been in the business since the early 1980s and seemed to be enjoying the break. But there was no hesitation when the national firm asked if he'd like to manage the Juneau store.
"When the opportunity arose I was excited about it because I could go back to do it, plus I didn't have to be on the hook for purchasing all the inventory," he says.
Collins is the kind of guy who will visit office supply stores while on vacation. And he's always liked OfficeMax.
The company opened its first Alaska store in Anchorage in 1994. There are now two in Anchorage, one in Fairbanks, and at 17,000 square feet, Juneau will be the smallest.
"This is the first of its kind store that OfficeMax has opened," Collins says. "It's a new lay out. It's a little bit more streamlined. It's more tech oriented."
The publicly traded company has more than 1,000 retail stores in the U.S. and Mexico as well as an international contract segment.
Its roots go deep in the forest products industry, organizing in 1931 as Boise Cascade Corporation. It sold the timberland, forest products and paper holdings in 2004. Corporate headquarters are in Naperville, Ill., just outside Chicago.
And since the store has been under construction, "a lot of people from Chicago have been coming up here commenting on how beautiful Juneau is," Collins says.
He's been to OfficeMax boot camp; at the Anchorage stores for training; and the company brought managers from Anchorage, Honolulu and headquarters to help launch the Juneau store.
It employs about 25 full and part-time staff members at better than minimum wage, and Collins can truthfully say they are all from Juneau. The company transferred an assistant manager from an Anchorage store to Juneau, but he was previously from the capital city.
"OfficeMax may not be what people will call a local business, but it's going to be pretty local looking when you come in there," Collins says. "They're going to say, 'Hey, I know that guy. He's lived in Juneau his whole life.' "
The company is one of three major office supply stores that had looked at the Juneau market over the last three years, according to retail consultant David Irwin.
Two years ago, Office Depot was close to opening a store here, then backed off.
Irwin says Staples and OfficeMax were sizing up Juneau at same time, with Staples considering stores in Juneau, Fairbanks and Anchorage.
"They had probably three or four stores teed up and they decided not to go," Irwin says. "And when they decided not to go all of a sudden OfficeMax came in, literally the next day."
Office stores have mostly been closing in Juneau in recent years. In August, Capital Office Supply shut its retail store.
The 65-year-old company decided to concentrate on interior design and furniture for professional offices. At the time, owner Ted Quinn said office supplies are cumbersome and a lot of work for not a lot of revenue, especially in these days when supplies are easily purchased at big box stores and over the Internet.
Consultant Irwin, located in Bellevue, Wash., was in the office supply industry for many years. He now works on behalf of Alaska properties, such as Nugget Mall, and retail outlets.
He calls the small capital city – population about 32,000 – "border line" for an office supply store.
"It used to be that the office supply store looked for businesses, small businesses. And then when everybody started getting a computer for their home, or a fax machine, all of a sudden it created this home-grown business," Irwin says. "And you have a lot of those in Juneau."
OfficeMax spokeswoman Nicole Miller says the company already had business contract customers in Southeast Alaska, and Juneau was the next logical market. She says the Anchorage and Fairbanks stores do a lot of rural business.

When you enter the Juneau store, the first thing you see is the tech area, with all sorts of electronic gadgets. Look left for basic office goods, toward the back for office furniture, right for just about everything you can imagine in office supplies.
Collins leads the tour:
"We have choices and choices even have choices. We have traditional manila folders, you need third-cut file folders, we got 'em. If you need third-cut file folders with zebra stripes on them, we have 'em,"
I'm surprised to see toilet paper and coffee supplies.
"Businesses need it, too, and we want to supply everything they need," Miller says.
Collins points to the aisle sporting single-cup coffee makers. "In fact in that aisle you're talking about we not only have Kleenexes and toilet paper along with wastebaskets and trash bags, there's even snacks in case they get hungry while they were working at the office."
Collins already knows the Juneau office supply market well, especially the logistics of getting products here. Now that the store is open, he says he'll be looking for feedback from Juneau consumers, because every market is a little bit different.
"Back in the early '90s when I was (also) selling lots of office supplies in Sitka, we used to sell a lot of fish clips. They were actually paper fasteners but everybody in Sitka thought they were fish clips because they put them on the nose of the herring for bait," he says. "And if we have to get fish slips in here, we can do that."
Today's OfficeMax "soft opening," as he calls it, will help work out the bugs for the grand opening on February 19th.