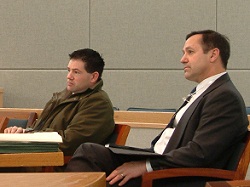 A Juneau guide was sentenced to just over nine months in prison and ordered to pay monetary penalties totaling nearly $44,000 for breaking federal and state wildlife and fishing laws.
Prosecutors suggest that the jail sentence for 37-year old Michael Patrick Duby is among the harshest in the state's history for fish and game violations. Both the federal and state sentences were the result of plea agreements.
"I'm willing to pay for these things that I've pled to," said Duby. "I just want to get it by, start over, and show that I can be a good citizen and not break these laws."
Duby was the owner of Fish Hunter Charters in Juneau. Investigators say they got a tip as early as April of 2009 about bear baiting behind Duby's house at 7220 Glacier Highway. That eventually led to six misdemeanor charges related to bear baiting, transporting bear, illegally taking a bear from a boat near Point Howard, false application of a hunting license, sport fish guide violations for two many poles and too many halibut taken, and falsifying guide reporting requirements for a halibut trip. There was also a felony charge for Duby falsifying his Alaska Permanent Fund Dividend application. He pled guilty to all of those charges in state court on Wednesday.
Andrew Peterson with the state's Office of Special Prosecutions says Duby has repeatedly violated the trust to hunt and fish in the state.
"It appears from his history and his record that he's somebody who is just unable to stop violating fish and game crimes," said Peterson.
Stemming from that first tip and subsequent investigation, prosecutors also filed charges against Duby's brothers, father, and other associates.
Juneau District Court Judge Thomas Nave said he was appalled when he first reviewed Duby's case and he initially contemplated rejecting the plea and sentence agreement.
"I just think that that is such a callous disregard of the conversation interest we have and our resources," said Nave.
For all the state charges combined, Duby was sentenced to over 44 months (1325 days) in jail with nearly 35 months (1045 days) suspended. That comes out to just over 9-months (280 days) to serve. There's also as much as five-years probation, and he must pay restitution of $1,200 for two killed bears.
"This is the last piece of the puzzle for Mister Duby to get his life in order," said defense attorney Brent Cole. He says his client has already been punished severely for identical crimes in Montana.
Including convictions in Alaska and Montana, Cole says Duby has a total of $70,000 in fines and restitution that he must pay. There's also 23-years in collective suspended jail time that could be imposed if he commits another violation.
As part of the state's plea agreement, a charge against Duby's father, 63-year old Michael W. Duby, was dropped. That was for providing guide services without a license, allegedly for a sport fishing trip in April of 2008 while taking out his son's boat the 'Brody.'
The younger Duby is banned from ever applying for a Permanent Fund Dividend again. He also forfeits the $30,000 bond for his boat the 'Huntress,' essentially losing the boat.
In a sentencing hearing that happened in federal court just an hour earlier yesterday, U.S. District Court Judge Timothy Burgess sentenced Duby to five-years probation, fined him $2,500, and required him to do 250 hours of community work service.
Prosecutors wanted jail time, while Duby's defense wanted straight probation.
Duby already pled guilty to one count of violating the Migratory Bird Treaty Act for the sale of at least eleven black-billed magpies on eBay from February of 2008 through June of 2009. Other charges were dropped.
Assistant U.S. Attorney Jack Schmidt called Duby "a serial wildlife violator", a "thrill-killer" who just wanted to kill things or see how much he could kill.
But defense attorney Brent Cole says his client has been forthcoming and cooperative with investigators, and has had no violations since the investigation.
Judge Burgess said the prosecution's argument about taking into account Duby's track record was "tempting," but he also noted Duby's attempt to take responsibility.
Duby told Judge Burgess that he was "sorry, very sorry." He said his livelihood is already destroyed and he has no desire to hunt again. He also said the magpies were legally hunted as part of a nuisance program in Washington State. He was just trying to sell the feathers for something useful, like arts and crafts or fly-tying supplies.
The federal sentence also includes a five-year revocation of hunting and fishing priviliges. Although, Cole discussed in both courtrooms that Duby is already effectively banned for life from any hunting or trapping anywhere. Duby may apply for a sport fish license in a year and perhaps a sport fish guide license in three years if he has no other violations. But he's prohibited from even riding in a boat along with other anglers until then.
Juneau members of the Alaska Wildlife Alliance attended both the state and federal hearing. Through a statement released afterwards, they express disappointment that Duby did not receive jail time in the federal case and disagreed with Cole's statements about Duby lacking of a prior record. The Alliance's Tina Brown says "laws governing wildlife offenses are often too weak, and penalties for wildlife offenses are too lenient or are implemented too leniently." She called for a higher value placed on wildlife, more support for those who bring offenders to court, and prosecution of offenders to the fullest extent of the law.
Duby is expected to report to Lemon Creek Correctional Center within two weeks. But it's possible that he will serve out the remainder of the state sentence with electronic ankle monitoring.