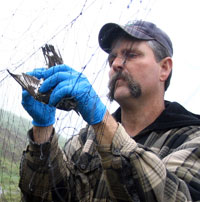 The Parnell Administration is not commenting on yesterday's resignation of Corey Rossi, head of the Alaska Department of Fish and Game's Wildlife Conservation Division. A divisive figure, who advocates for controversial predator control practices, Rossi was charged Thursday with 12 misdemeanor counts related to an illegal bear hunt in 2008. Casey Kelly reports.
The alleged illegal hunt occurred in June 2008 on the north side of Cook Inlet. Alaska Wildlife Troopers say Corey Rossi aided two non-residents in killing three black bears, and took one black bear himself.
Troopers say Rossi then lied on state hunting documents by claiming that he killed all four bears.
According to the charging document, wildlife troopers received a tip in November 2010 from an out-of-state law enforcement agency about the illegal hunt. Troopers asked the agency to investigate, before launching their own probe, which included questioning Rossi last month.
Rossi allegedly admitted to troopers that he had all four bears sealed in his name at an Anchorage taxidermist two days after the hunt – providing false information on the sealing certificates.
He's accused of a permit hunt report violation, multiple counts of making false statements and unsworn falsification, and one count of unlawful possession of an illegally taken bear. Rossi – a licensed assistant big game guide at the time of the incident – is also charged with five counts of unlawful acts by an assistant guide.
The charges were filed by the state Law Department's Office of Special Prosecutions and Appeals.
It's unclear what the Parnell administration knew and when. Asked by e-mail how and when the governor's office found out about the investigation, Spokeswoman Sharon Leighow declined to comment.
State Troopers' Spokeswoman Megan Peters did not know if investigators talked to either the governor's office or fish and game commissioner Cora Campbell. Peters also says she did not know what out-of-state agency originally tipped state troopers.
Rossi resigned his position with Fish and Game on Thursday.
A close friend of former Governor Sarah Palin's parents, he joined the department in 2009 as an assistant commissioner for "abundance management" – a position specially created for Rossi by the former governor.
In 2010, Governor Sean Parnell and then-Commissioner Denby Lloyd tapped Rossi to lead the Division of Wildlife Conservation, demoting long-time fish and game employee Doug Larsen.
The appointment was controversial due to Rossi's advocacy of predator control programs. That's the practice of killing or relocating predators, such as wolves and bears, in an attempt to increase populations of other species, namely big game.
The Division of Wildlife Conservation is responsible for conservation and enhancement of Alaska's wildlife and habitats for a wide range of public uses and benefits. Current Division Operations Manager Dale Rabe has been named Rossi's interim replacement.