The state is setting aside more of its land for logging.
Governor Sean Parnell today (Sept. 7th) signed a bill adding 23,000 acres to the Southeast State Forest. The measure nearly doubles the size of the forest, which was created in 2010.
The forest is spread out, rather than in one concentrated area. The new acreage is in Southern Southeast and includes 23 parcels on Mitkof, Wrangell, Prince of Wales, Dall and some other islands, as well as the mainland. Click here to view a map of the forest additions.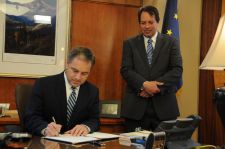 Haines Representative Bill Thomas helped get the bill passed. He says a larger state forest should be of value to the region's mills.
"There's not very many around and they need all the help they can get. So I'm just hoping our efforts will be able to supply some volume of timber to them rather than having them litigated and shut down," he says.
The land was already slated for eventual timber harvest. The state forest designation allows officials to manage it by enhancing tree growth with techniques such as thinning.
The Southeast State Forest, at about 50,000 acres, is the third and smallest such entity.
The quarter-million-acre Haines State Forest is in northern Southeast. The 1.8-million-acre Tanana Valley State Forest stretches from Manley to Tok in the Interior.
Thomas says the areas remain open to uses other than logging.
"We have a state forest in Haines too and it's multi-purpose. It's open to hunting, fishing trapping, subsistence, personal use, the whole thing," he says.
Parnell sponsored the measure, House Bill 105. It passed the House and Senate last spring without objection.
The governor this year also created a timber task force to work on plans to rejuvenate Southeast's depressed wood-products industry. It includes state and other logging supporters who left the Tongass Futures Roundtable. That group included environmental organizations, which the task force does not.