Update — On July 28, 2020, Alaska Gov. Mike Dunleavy announced that starting August 11th, nonresident travelers to the state will be required to have a negative COVID-19 test.
Updated Post
Gov. Mike Dunleavy is ending Alaska's 14-day quarantine for new arrivals. Instead, visitors and Alaskans returning to the state will be asked to take a test within 72 hours of boarding an Alaska-bound flight.
"We do believe that this will open up Alaska more," Dunleavy said.
The new policy goes into effect June 5.
Dunleavy said travelers who can't produce proof that they've had a recent test and that the results were negative will be given the choice of taking a test at the terminal or beginning a 14-day quarantine.
"We think this is going to make things a lot easier," than the 14-day quarantine, Dunleavy said of the test.
Travelers also will be required to fill out a form on their flights before arriving in the state.
"We're going to try to make this as easy as possible and still have significant safeguards," for travelers and Alaskans, the governor said.
While the policy allows other options, Dunleavy said everyone really should get tested before they fly. Otherwise, he said, passengers run the risk of a significant delay at the terminal if there's a line. If the contractor runs out of test kits, he said, passengers who didn't get tested in advance may have to quarantine.
The state has worked out separate plans for industries that are bringing workers to the state, including fishing, mining and oil companies.
Dunleavy said some individual communities off of the road system may continue to have limits on non-essential travel.
Dunleavy and Alaska Chief Medical Officer Dr. Anne Zink have credited the mandate, which dates to March 25, with helping to keep Alaska's rate of infections to the third-lowest in the country, after Hawaii and Montana. Hawaii Gov. David Ige has said that he plans to keep that state's 14-day out-of-state quarantine past June 30.
Original Post
Gov. Mike Dunleavy's latest COVID-19 press conference is scheduled for 5 p.m. today.
Dunleavy and Commissioner Adam Crum, Alaska Department of Health and Social Services, will discuss the status of Health Mandate 10, which is set to expire on June 2, and interstate travel.
Alaska's Chief Medical Officer Dr. Anne Zink will provide an update on COVID-19 cases in Alaska.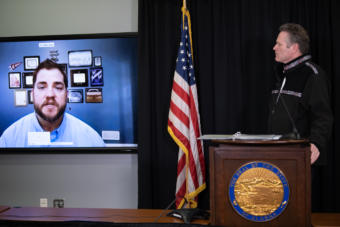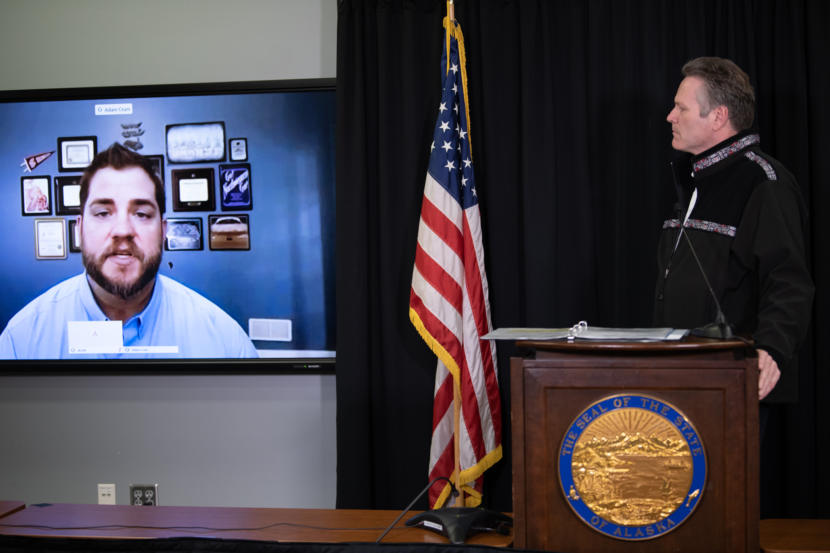 The governor has been holding these briefings since March 10. Members of his administration have shared updates on the number of people in the state with confirmed cases, announced public health mandates, and explained the administration's strategy and rationale.
They've imposed several public health mandates that have reshaped daily life across Alaska to combat the spread of the virus. Those mandates and other Alaska-specific COVID-19 resources and information are available at coronavirus.alaska.gov.
You can watch today's press conference live on this post, the governor's Facebook or Livestream pages, or on 360 North television.
This preview was written by KTOO's Jennifer Pemberton.