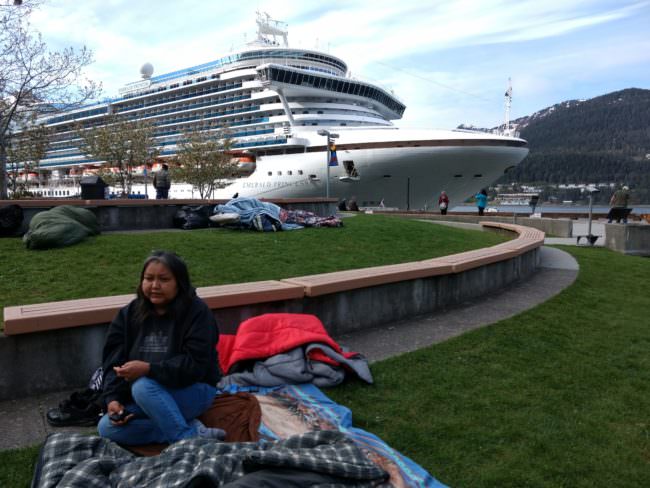 Juneau's controversial anti-camping ordinance has been in effect for more than a month. The result has been more people are sleeping in downtown's Marine Park.  Now the city is looking to empty the park of overnight campers.
It's just after 8 a.m. on Juneau's downtown waterfront. The Emerald Princess cruise ship empties of tourists as people sprawled out on the soft grass begin to stir inside their sleeping bags.
Lorraine Paul is one of those early risers. The 42-year-old and others often sleep in Marine Park though police sometimes try to move them on.
"Some of us sleep in the booth over here and have to be out by 5:30 a.m. to be respectful," she said. "We get up to try and come over here and lay down and then here comes JPD and they're like: 'You need to get up and pick your stuff up.'"
The reason she chooses to sleep out in the open, in a public park, is security. There are aggressive drug addicts around who can be threatening.
"I hate to say this but because some of these people do meth, you know. I feel like they ruin it for us," she said. "It's really hard to find somewhere to sleep. I mean, I'm an alcoholic. Some of us try to stick together — how do I say it — pack off to ourselves."
Juneau has one of the largest homeless populations in Alaska. A statewide survey in January found the capital city had 215 homeless people — 59 of them unsheltered.
Earlier this year the Assembly passed a controversial ordinance banning sleeping on private property in the downtown core.
Juneau Police Lt. David Campbell says officers have been able to coax people away from storefronts without serious conflict.
"Since the initiation of the ordinance, no citations have been issued," Campbell said. "Which means that people are basically moving on if requested to and it hasn't gotten to the level were the officers feel like they have to write a citation."
Federal judges have ruled cities can't pass laws that criminalize homelessness. That's why the city's recent ordinance is limited to private property. Many people moved to public property, like Marine Park, where Campbell says police were instructed to be more lenient about restricted hours.
"With the new camping ordinance and the directions to the officers we were told not to enforce that in Marine Park," he said.
But soon the city will try to make Marine Park off-limits after midnight.
"We think that making sure that the park remains open as a park and not as a camping areas is best for everyone," Deputy City Manager Mila Cosgrove said.
She says the decision was made Tuesday at a meeting of city department heads. The logic is to close the downtown parks to drive people toward alternatives, such as the seasonal campground near Thane.
"The thought was people would naturally migrate up to Thane as the weather got a little bit warmer, which it certainly has, and that hasn't been happening. We want people to know that that's a designated option for them."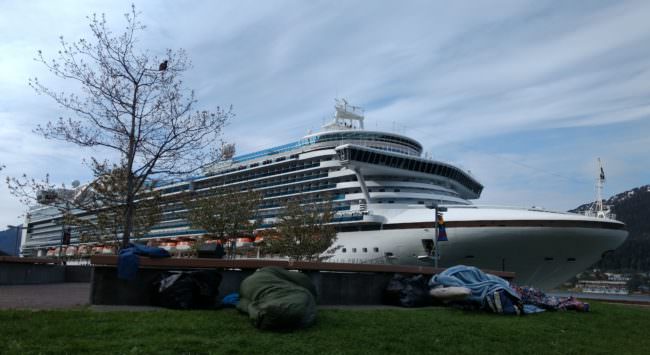 Complaints in recent weeks about rowdy behavior in Marine Park is what led the city to take action.
"At times people don't feel safe transiting through that area and that's just not acceptable — everyone has the right to feel safe in their community," she said.
The Tuesday afternoon directive to clear Marine Park after hours hadn't filtered down to the police lieutenant on Wednesday morning.
But Campbell says it could be done.
"When we encounter someone it gives us the ability to legally justify contact with them to identify them and see who they are and then ask them to go out of the park," Campbell said. "Because it's after hours and if they refuse then to issue them a citation."
Back in Marine Park, this is not welcome news to Lorraine Paul.
"Now that I hear that we can't be sleeping out here — it sucks," Paul said. "Wish they'd have somewhere for us to camp."
What about Thane campground? She says it's 2-miles from downtown on an unlit road. Not safe for a single woman.
"You hear a lot of stories. For example, if I walked out there myself — I'm told there's guys out that way that camp that would hurt you and rape you," she said. "It's kind of hard because I've been on the streets off-and-on all my life."
It's unclear whether the city would be able penalize anyone caught in the park after hours, because there's a typo in the city's code that likely would need amending before a court could impose the $25 fine.