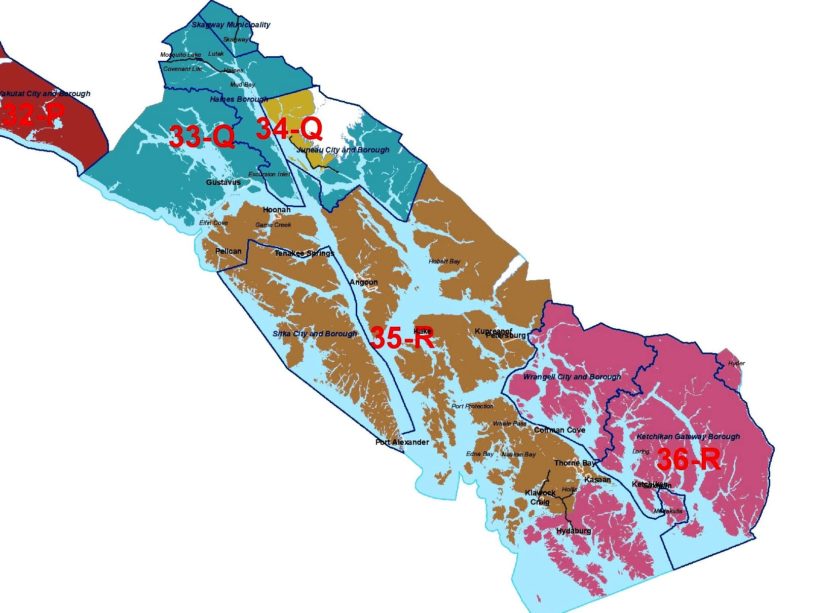 Southeast Alaska's nine legislative candidates have raised close to half a million dollars for this year's campaigns. Five, including a barely-challenged incumbent, have brought in about $50,000 each.
Not all the numbers are in yet. But as of Friday afternoon, the most recent campaign finance disclosure reports showed the total raised at about $440,000.
That's about 6 percent higher than the 2014 election. But it helps illustrate the long-term growth of campaign fundraising in Southeast.
Juneau's Christopher Clark said, "I think it's keeping up with the inflationary trend." Clark tracks and analyzes state elections.
"There was a time when we looked at $25,000 as being enough to win a House seat provided you were a decent candidate. And now, we're seeing much, much more money raised," added Clark. He has worked as a journalist and as a staffer for legislators of both major parties.
Two of Southeast's five legislative races have no opponent on the ballot, so you'd expect less fundraising.
That's true for incumbent Juneau Democrat Sam Kito III, a civil engineer and former lobbyist, who is seeking a second full term. His House District 33 represents about half of Juneau and the rest of northern Southeast's cities.
Kito has raised close to $16,000 but has spent only about a quarter of that money.
But the other incumbent without an opponent on the ballot, Sitka Republican Senator Bert Stedman, has brought in more than $47,000.
The investment manager has a write-in challenger, Petersburg handyman Michael Sheldon, who has only raised $100 running for his Senate District R campaign.
All the Southeast races had competition two years ago. But Clark said unopposed candidates aren't uncommon.
"Southeast does have some history. Pretty much, if you like the guy who's in there or the woman who's in there, then you will see they don't get that opposition," he said.
Financial disclosure forms show Stedman, who's seeking his fourth full term, has spent most of what he's raised. A lot went to campaigning with two fellow Republicans who are challenging a Democrat and an independent for House seats in his district.
One is Sitka GOP member Sheila Finkenbinder, a former legislative aide and executive director of her city's chamber of commerce.
Finkenbinder has brought in more than $35,000 so far and most has been spent.
It's less than half of the $75,000 raised by incumbent Sitka Democrat Jonathan Kreiss-Tomkins, who has worked with his town's fine arts camp.
He's seeking his third term representing House District 35, which includes his hometown, Petersburg, Kake, Angoon and about 15 other villages.
Kreiss-Tomkins has spent about 70 percent of what he's raised.
Stedman has also been campaigning with Ketchikan Republican Bob Sivertsen, a retired city employee who's challenging independent incumbent Dan Ortiz, also of Ketchikan.
Sivertsen has raised a little more than $35,000 on his own. But another $40,000 has gone into a separate committee supporting his candidacy. The main contributor is The Accountability Project, a conservative, Anchorage-based political action committee.
Clark can't recall that happening before.
"In some ways, that's almost par for the course up north, up in the Southcentral area, in those highly competitive races that are happening right now," he said. "But here in Southeast, that's something we haven't seen. I think they are indicative of what people see as probably the closest race we have here.
House District 36 one-term incumbent Ortiz, a retired teacher, called the PAC contributions "dark money." Campaign finance reports show he brought in a little more than $70,000 and he has spent the majority of that amount.
Constitution Party candidate Ken Shaw raised about $330 and spent about a third of it.
The final Southeast race, in House District 34, pits Republican incumbent Cathy Muñoz, a former gift-shop owner, against Democrat Justin Parish, who works with special-needs students.
The district is based in Juneau's populous Mendenhall Valley and includes some other capital city neighborhoods.
Muñoz, who is seeking her fourth term, has the fundraising lead with $82,000. She's spent about 70 percent of that amount.
Parish has raised close to $40,000, about half of Muñoz' total. The latest finance reports, filed with the Alaska Public Offices Commission, show he's spent about half of that.